Environmental Friendly
We are living in the midst of global warming,climate change, and many pollutions. ChipMOS understands the strengths and impacts of an enterprise and as such, we encourage our employees to launch a series of initiatives to be more friendly and to give back to the environment. To implement these strategies, we began at the core of the organization and began outward. Starting from the Company, we gradually extended the caring to our surroundings, and finally, to all the land. To exert the greatest benefits, we took the initiative to observe local needs and to encourage employees to undertake responsible environmental actions to counter climate change and global warming in practice.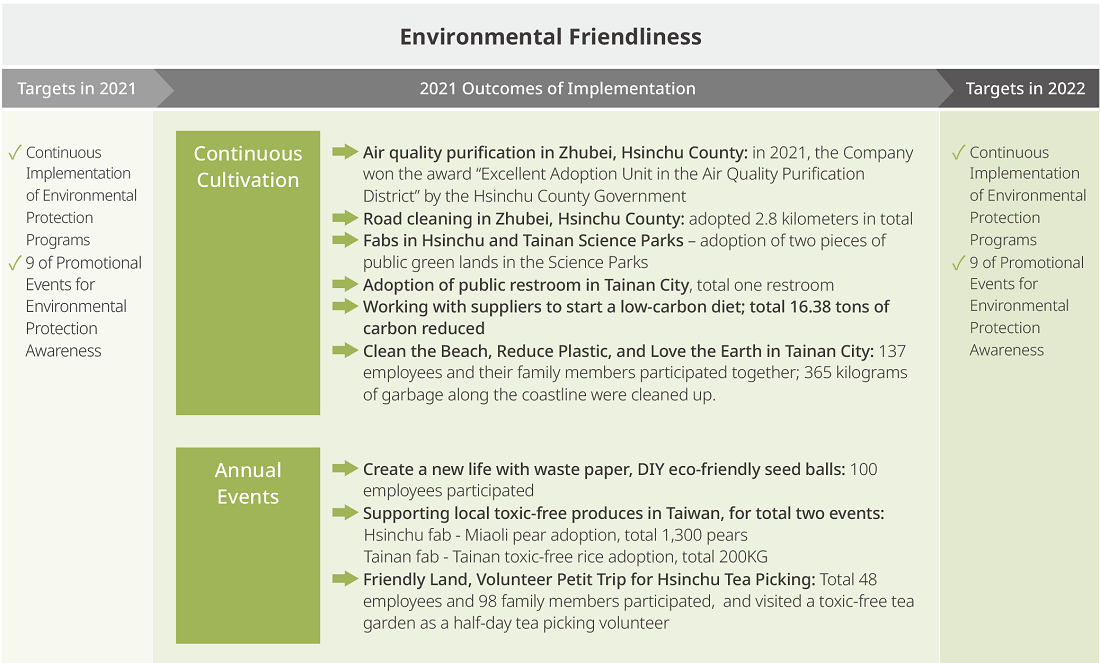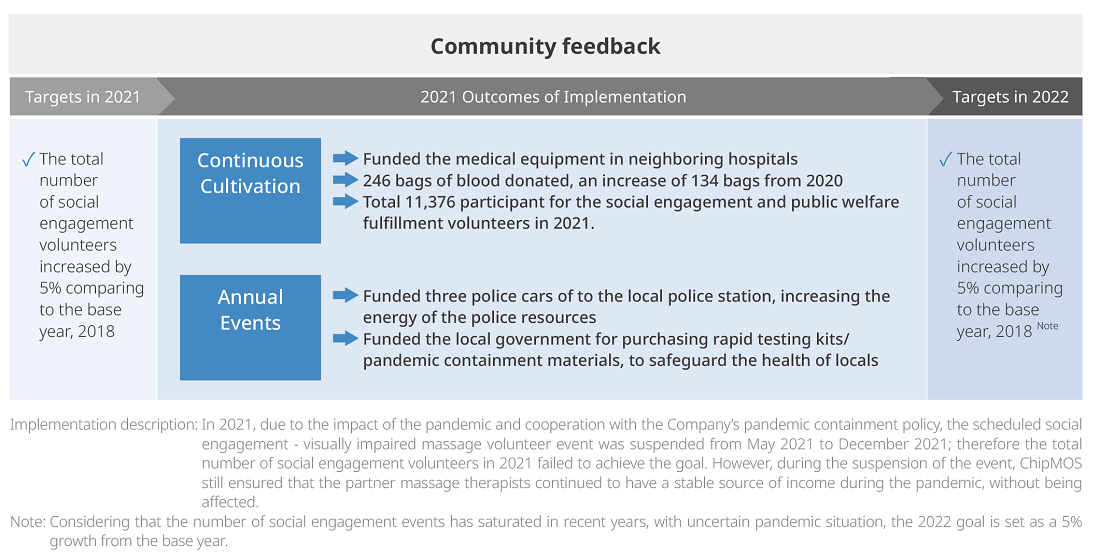 Air quality purification at Zhubei, Hsinchu County
To improve air quality and to enhance the living standard of our neighborhood, we have been sponsoring 3.9 hectares of the air quality purification zone at Doulun Village at Zhubei, Hsinchu County since 2014. Environmental protection is achieved through regular environmental sanitation, weeding, caring for the fabs, and maintaining the facilities; moreover, our continuous efforts have been recognized and awarded by external parties on numerous occasions. We will continue to commit to this piece of land and to provide our employees and community residents with a clean recreational environment.
【Read more...】
ChipMOS received 2021 Special Contribution Award for Adopting Air Quality Purification Zone
Sponsoring Tainan City coastline
We continued to join EPA's "coastline adoption program" and sponsored one kilometer of the coastline in Tainan. Garbage along the coast is regularly cleaned to provide a more beautiful environment and a recreational space to the residents. ChipMOS has been encouraging employees to bring their families to join the beach cleanup event organized by local environmental protection bureaus for 15 consecutive years. In 2021, the event called 137 employees and their family members to serve as volunteers for the eco beach cleaning on Yuguang Island, Anping, Tainan. Total 365 kilograms of garbage and waste was cleaned from the beach on Yuguang Island, returning a clean and pollution-free coast to the Earth.
Series of adopting local crops
ChipMOS has collaborated with local farmers in 2015 by the Company adoption and partial adoption from employees, we directly purchase from the farmers to directly help the local farmers in Taiwan. We have supported toxic-free vegetation to conserve land and reduce food carbon footprint. Besides, we also donated some of the crops to social welfare institutions to spread the love to more people in need.
Starting from the daily diet, and partnered with suppliers to begin low-carbon diet
Since 2017, ChipMOS has hold farmer's market every month, and we bridged the distance to farmers by using social media, and provided them a platform to sell fresh vegetables. And our employees can effectively reduce their food-related carbon footprints via the low-carbon diet lifestyle of consuming local fresh products. As of 2020, the number of participating vendors have increased to more than 100, and the cumulative revenues has reached NT$117,295, which provides a stable source of income for the farmers and supports environmental friendliness and promotes a healthier diet.
We have partnered with catering suppliers since 2017 to introduce CAS-certified organic vegetables into Company meals. We can support organic farming to protect the land and jointly promote an awareness for healthy diet, as well as reduce carbon to save the planet through action.
【Read more...】
Fostering Local Agriculture, and Providing Nutritious and Healthy Food to Disadvantaged Children
Caring for the community; donating medical equipment to nearby hospital
ChipMOS has funded the nearby hospitals in Hsinchu for long time, including Hsinchu Mackay Hospital, Hsinchu Branch of National Taiwan University Hospital, and Hsinchu Branch, China Medical University Hospital. In 2021, ChipMOS funded NT$180,000 to Hsinchu Mackay Hospital and NT$600,000 to Hsinchu Branch, China Medical University Hospital, to replace basic medical equipment for improving the highquality basic medical services, so that employees and community residents will be taken care of well when seeking medical services.
【Read more...】
ChipMOS Protects Home Care Workers through Tough Times
Fighting COVID-19 together, ChipMOS Donated Police Patrol Vehicles
Joining blood drive to spread love and care
Since 2001, ChipMOS has worked with Hsinchu and Tainan Blood Donation Centers, to regularly hold the annual public blood donation event. In 2021, affected by the COVID-19 pandemic, the number of blood donors in Taiwan declined, resulting in insufficient blood inventory. ChipMOS called on 174 employees to donate blood for public welfare. For 21 years in row, 4,245 people have donated 5,846 bags of blood. It is expected the love and the blood of ChipMOS employees will be continued in more people in need.