Conflict Minerals Management
In recent years, the influence to international human rights and social environment by the use of the conflict minerals drew considerable criticism from public discussion. Because the mineral trade in the Democratic Republic of Congo and its neighboring countries and areas has been controlled by local interest groups, the proceeds of the above trade has become the main revenue of the above groups and has been using in trading arms and continuing their bloody conflicts against local governments, moreover, the local interest groups has been obtaining the above benefits by ravaging local civilians, thereby international controversies have been raised.
Based on bearing corporate social responsibility and practicing international justice, and to be in compliance with the financial reform bill (Dodd-Frank Act of 2010, HR 4173) passed by U.S. Congress, ChipMOS will avoid using metals from illegal mining in product raw materials and in the production process. To express concerns in this conflict minerals issue, ChipMOS hereby make the following statement:
1. ChipMOS fully supports and responses to the boycott of conflict minerals, undertakes to comply with Non-Used Conflict minerals Policy in the RBA code of conduct, does not accept conflict minerals (such as gold (Au), tantalum (Ta), tin (Sn), tungsten (W)) from the Democratic Republic of Congo and its neighboring countries which to be used directly or indirectly to subsidize armed conflicts.
2. ChipMOS clearly communicated to its supplier and is committed to require suppliers to inform ChipMOS immediately upon knowledge of using conflict minerals in the products. ChipMOS's suppliers are required to execute "RBA Conflict Minerals Reporting Template (CMRT)" and "Non-Used Of Conflict Minerals Guarantee Letter.
Conflict minerals
All the materials which related to conflict mineral concerns are listed as below. (Data period: 2022.1.1~2022.12.31)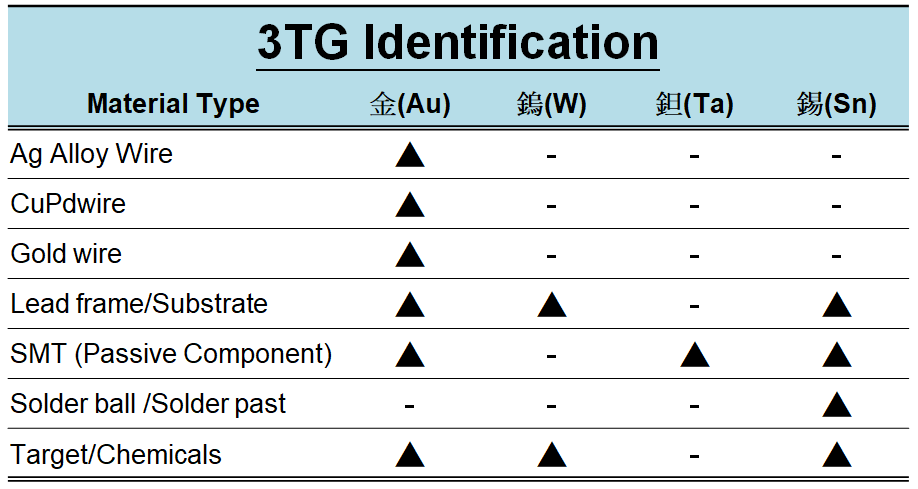 ChipMOS supply chain total Q'ty: 37, of which the number of used chain smelter Q'ty: 83 (Au:34, Ta:3, W:6, Sn:40)

Au major from Japan, China
Tin major from Indonesia, Brazil
W major from China
Ta from Japan