Supply Chain Management
Supply Chain Framework
On top of creating direct economic values, ChipMOS's production activities are also focused on helping industries throughout our supply chain to create indirect economic values through technical cooperation. By setting the Responsible Business Alliance (RBA) Code of Conduct as the objective of our supplier management policy, we strive to promote local procurement strategy and supplier coaching to enhance overall competitiveness and to create synergistic growth for all.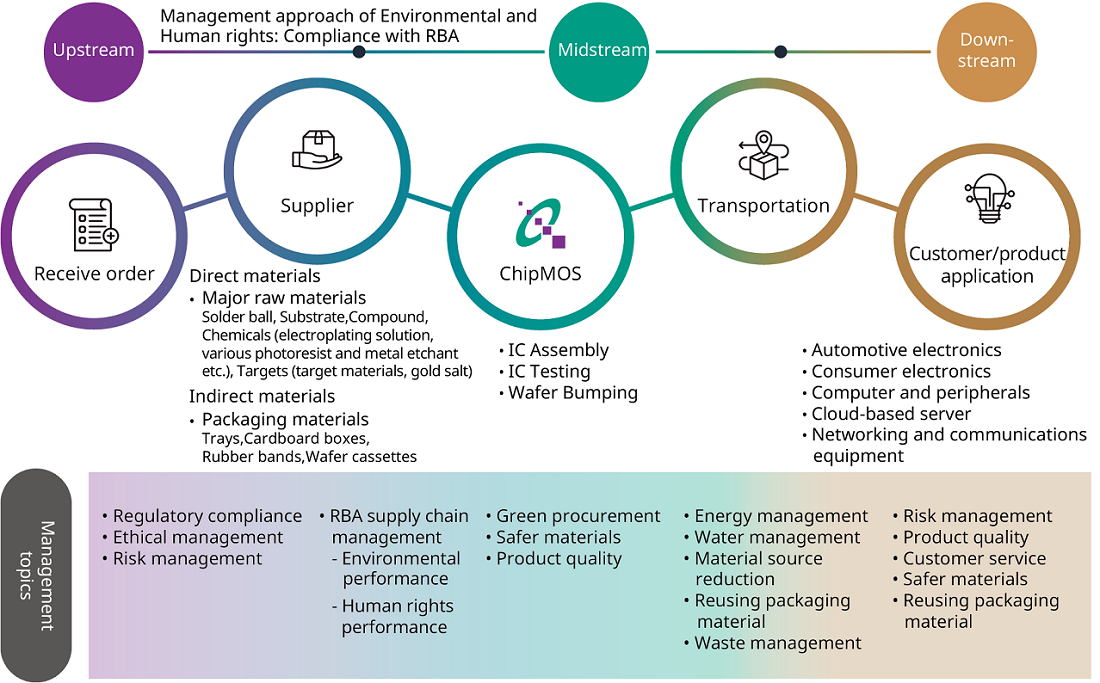 Supplier Management Committee
ChipMOS has established the Supplier Management Committee, which comprises of five cross-departmental teams (engineering, contractor, production and material management, procurement, and quality) that jointly implement the aforementioned scope of supplier management in supplier selection, supplier audit, and supplier evaluation and more. We strive to conform to the standards prescribed in the RBA Code of Conduct, and work hand-in-hand with suppliers to practice social responsibility.
New Supplier Selection
ChipMOS has built a comprehensive new supplier selection process. After a request for new supplier has been issued by one of our departments, evaluation will be conducted by the Supplier Management Committee. The evaluation consists of four dimensions, namely, engineering and technical skills, quality management system, price, and service (including productivity and commitment to lead time). And a thorough evaluation of the risks associated with introducing said supplier will be conducted, including the industry performance of said supplier's current customers.
ChipMOS hopes that suppliers identify with our vision of sustainable development and our requirement for ensuring product quality, and we adopt the highest benchmarks to review suppliers during the evaluation. For new suppliers of major raw materials, we also check to see their qualification status in relevant international quality systems (e.g. ISO 9001, ISO 14001, IATF 16949, and ISO 45001 and more). At the same time, we review the supplier's practices of process management, green products, RBA and safety and health management to ensure that the supplier has met product quality requirements and other relevant requirements such as prohibiting the use of hazardous substances and protecting employee safety.
Supplier Ranking
Qualified major direct material and indirect material suppliers who should received ChipMOS quarterly supplier ranking, including Quality, Delivery, Engineering Capability, and Price; Corresponding treatment and measures will be undertaken for suppliers who scored A, B, C, or D ranks.
Measures:
Suppliers with C ratings (evaluation scores are between 60 to 69 points) are required to submit improvement measures within 7 days, and a review will be conducted by a team within the Supplier Management Committee
In case a supplier has received C ratings in two consecutive evaluations, appraisal will be made on whether its status as a qualified supplier will be rescinded
In case of a D rating (evaluation score below 60 points), a supplier will be immediately appraised on whether its qualification will be rescinded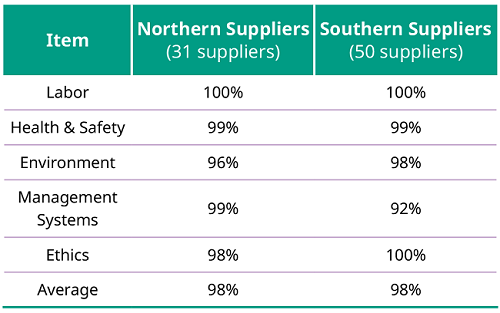 Supplier Audit
As a part of the Supplier Management Measures, ChipMOS formulates annual audit plans to audit and review the suppliers on each dimension of the RBA Code. Moreover, the audit plan specifies the timing of evaluation for each supplier as well as the scope of the audit.
Measures:
Document review
Regularly conduct supplier onsite evaluation processes
In case of unqualified supplier or deficiency has been found, the Company will actively coach and train them for improvement
Supplier Assistance and Training Encouraging suppliers to achieve certification for international standard
ChipMOS maintains a positive and open mindset in discussing with suppliers and carries out relevant promotions and training through the evaluation and audit, or while making improvements for deficiencies found in the suppliers' order placement process. ChipMOS and suppliers learn and grow together to ensure that deficiencies will not reoccur. Extra points will be assigned for any supplier who has received certification for international standard, and ChipMOS continues to actively coach suppliers to acquire various certifications to international standards.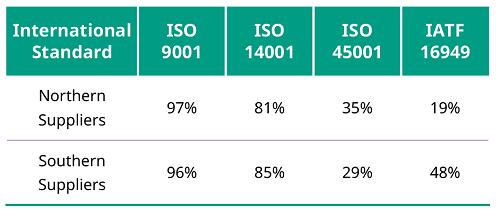 Supplier Code of Conduct
Supplier Ethical Management Policy
To ensure that suppliers understand ChipMOS's adherence to honest and integrity in all business activities, we require for additional clauses regarding Regulations Governing Professional Moral Conduct when signing procurement contract with suppliers. In case of illegal conduct from ChipMOS's employees or relevant suppliers, the incident can be reported via our whistleblowing mailbox at Audit_Committee@chipmos.com. To collectively bear the responsibility of ethical practices with our suppliers, ChipMOS will investigate and punish the illegal conduct, while keeping the identity of the whistleblower confidential and to adopt proper protection measures.
Supplier's CSR Statement
ChipMOS strives to comply with the RBA Code of Conduct, and to ensure that suppliers can clearly understand the Code, we request specific suppliers (Note 1) to sign the Statement on Corporate Social Responsibility (CSR) and require our supply chain partners to join us in fulfilling corporate social responsibility. Starting from 2014 and as of December 31, 2020, 287 specific suppliers have signed the Statement on Corporate Social Responsibility, and the signage ratio has been 100%.