Green Product
ChipMOS has formulated rigorous standards on raw materials used in our products, and conducted annual assessments through third-party institutions to ensure the effectiveness of our hazardous substance management mechanisms. ChipMOS has introduced green products so that products are free from substances harmful to the environment, and enhance green competitiveness to pursue for sustainable business development.

Green Product Management System
To ensure that products served to customers have met green product laws, source management of the raw materials has always been a topic of our concern. Hence, ChipMOS has formulated the Green Product Management System (GPM) to effectively manage the compositions and analysis reports of materials from suppliers. In addition, we also continue to adjust relevant internal procurement and inspection procedures and processes, and have integrated the GPM system into our automated inspection and review mechanism to ensure that raw materials that do not conform to green product regulations are not purchased nor accepted.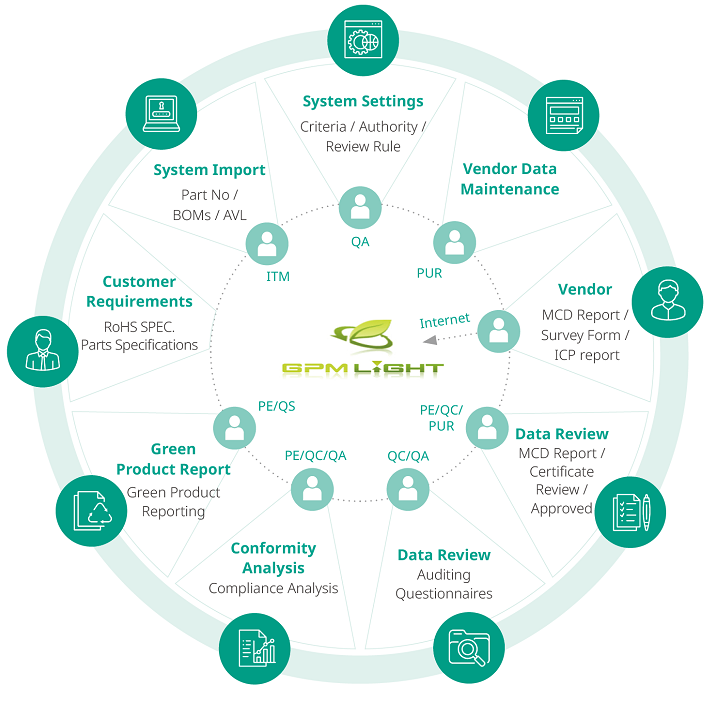 Receiving Third-party Assurance for IECQ QC 080000 Throughout All Fabs
All ingredients, products, packaging, components, andcomponent sets (collectively, "products") produced by ChipMOS and relevant suppliers and contractors, havemet Restriction of Hazardous Substances (RoHS) Directive,regulations from ChipMOS's prohibited and restricted hazardous substance lists, and customer requirements. ChipMOS and related suppliers commit to staying alert to any updates to international laws regarding products' hazardous substance control to ensure continued regulatory compliance.

All ChipMOS operations in Taiwan, including Hsinchu fab, Zhubei fab, Hukou fab, Zhubei fab. 2, and Tainan fab, have achieved IECQ QC 080000 system certifications in line with the IECQ QC 080000:2017 management system standards. These efforts have helped us remove toxic substances from our production and recycling processes, which not only protects our employees and operators, but also prevents pollution to the land, air, and water.