Human Rights

Management Approach
ChipMOS is dedicated to protecting all employees, maintaining their human rights, and extending our impacts to suppliers to protect the rights and interests of all members of our supply chain. We guide suppliers of ChipMOS to jointly follow the Responsible Business Alliance (RBA) Code of Conduct through comprehensive supply chain management mechanism, so as to respect workers, undertake ethical management, be environmentally-friendly, and to provide a safe and worry-free workplace environment.
Implementation of Human Rights

Human Rights Related Training
To protect employees' interests and fulfill the corporate social responsibilities, ChipMOS has promised to conform to RBA 7.0 code of conducts, to ensure employees fully understand their own interests, healthy and safe working fields, environmentally protective actions, Regulations Governing Professional Moral Conduct of the Company, and the implementation of human right education and corporate social responsibilities in the management system. All employees must receive the human right education and trainings since onboard. In 2021, there were total 810 employees trained, and the total training hours were 847.18 hours. The employees received RBA and other related courses were 69% of all employees.
Complete Human Rights Risk Assessment for All Fabs
We have been conducting annual RBA Self-Assessment Questionnaire (SAQ) since 2016. Through active self-assessment, we can substantially improve measures related to human rights and build an equal and fair workplace environment. The assessment results are rated on a scale of 0 to 100 and divided into three ranges of risk, and higher scores are associated with lower risk according to RBA 6.0 SAQ. The scales are as follow: (1) 85 points or above = low-risk; (2) ≥65 points ≤ 85 points = moderate risk; (3) ≤ 65 points = high risk. The assessment results showed that all operating sites, including Hsinchu fab, Zhubei fab, Zhubei fab. 2, Hukou fab, and Tainan fab, have scored 85 points or above and have low risk.
Diversification and Inclusion
ChipMOS persists in merit-based recruitment and our management team is also comprised of local workers. In terms of general employees, local residents account for 78.74% while foreign workers, who are predominantly Filipino, account for 21.26%. Proper care and attention has been paid to the Filipino workers, and the rate of continued employment for foreign workers from 2018 to 2021 have reached 80% or above.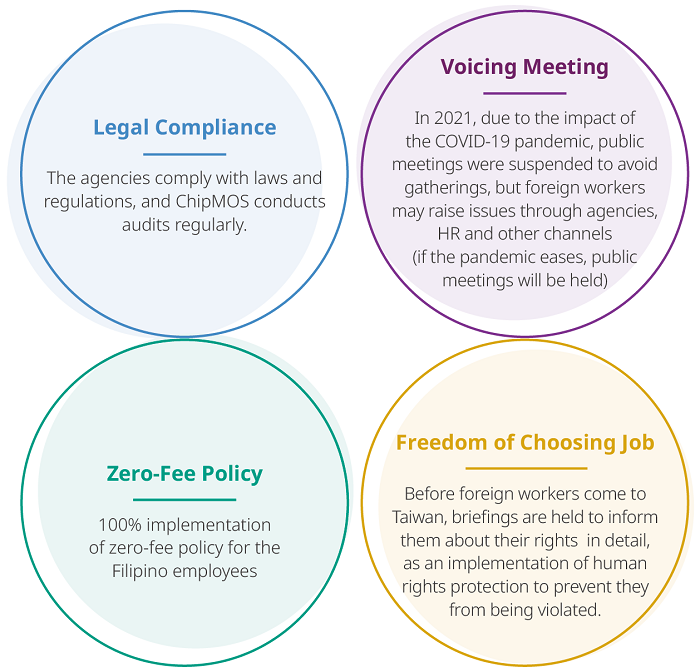 Diverse Communications and Appeal Systems
ChipMOS provides diverse and open channels of communication that facilitate interactions and employees' opinions. Such channels include employee email/physical mailbox; EAP hotline; employee interviews and regular labor relations meetings. Additionally, comprehensive internal and external grievance mechanisms have been set up, including employee mailbox, Chairman's mailbox, Audit Committee mailbox, and Information Security Committee mailbox. Such channels ensure the rights and interests of employees, customers, and contractors, and help to effectively communicate and solve problems.
There will be no major labor disputes in 2021; in 2021, a total of 56 related opinions and responses from employees will be received, and all feedback will be responded to and processed immediately. The acceptance and closing rate is 100%, and there are no special cases, and there is no delay. or accumulated cases. If there is a complaint of sexual harassment, it will be investigated and tried by the handling committee, and it will be coordinated and completed in accordance with laws and regulations; the medical office will also share articles related to gender relations from time to time, and in accordance with the regulations of Article 6 of the Occupational Safety and Health Law, to carry out the harm of illegal workplace violations in the company Identification and risk assessment surveys to educate employees to prevent incidents of gender discrimination.
Note 1: Evaluate whether it is a special case according to the actual situation of the case, such as violation of national laws, company regulations or cases that may affect the operation of the company
Diverse Communication Channels