Healthy Workplace
ChipMOS is dedicated to employees' health and plans comprehensive health management programs to implement employees' health management. At the same time, to ensure the health of all non-employee workers at our fabs, ChipMOS also provides necessary medical consultation and assistance, and makes medical resources accessible to all workers.

ChipMOS strives to protect the health-related rights and interests for workers. Besides following laws related to medical personnel, confidentiality clauses are also specified on contractors' agreements to protect the privacy of workers' health information. We formulate "Worker Health Service Programs" in each year, and the status of which are reviewed at the OSH Committee in each quarter, and we continue to create a well-rounded workplace environment that is healthy, comfortable, where the workers can be at ease.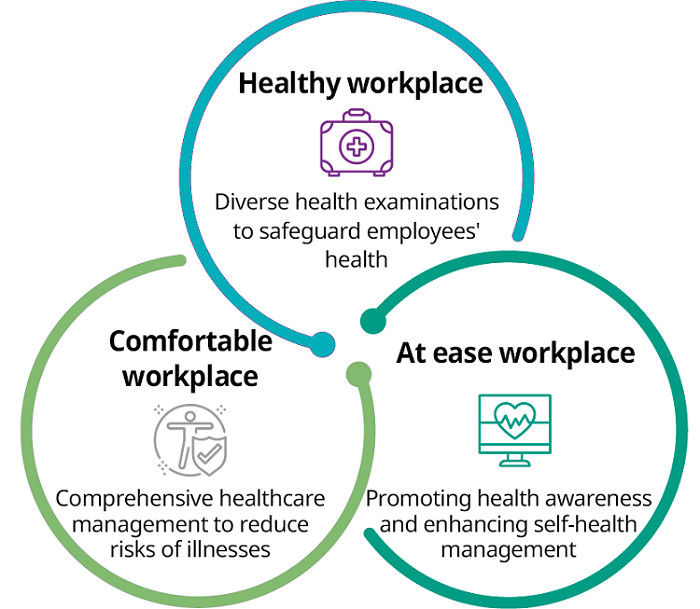 Healthy Workplace:Diverse health examinations to safeguard employees' health
ChipMOS conducts health examinations for employees on an annual basis. We have been offering more diversified test items at higher frequency than industry competitors for 18 consecutive years to safeguard our employees' health and achieve our goals of early detection and timely treatment. We also value the health of non-employee workers at our fabs, and to fulfill our supervisory role over the plant, we have also requested outsourced vendors and contractors to implement health examinations and care for their workers in line with the laws. This will help us to reach the goal of caring for the physical and mental well-being of all workers.
| | |
| --- | --- |
| Item | Content |
| Employee health examination | We discuss with professional occupational physicians and establish more examinations than statutory requirements in each year to care for employees' medical health, including eye air puff test, abdominal ultrasound, ECG for middle-aged and senior employees, and screening for various cancers and more. |
| Supervisor's health examination | Supervisors' health examinations are fixed allowances granted in every year. The onsite physician will evaluate the physical status of each person and provide suggestions for examinations. Moreover, various examination packages will be provided for the supervisors to choose from, hence achieving effective health benefits. |
| Special hazard health examination | In line with the Occupational Safety and Health Act, examinations are conducted to personnel whose work involves dust particles, nickel, n-Hexane, and long-term night shifts. To reduce risks of occupational hazard, those under Rank 2 management have all completed evaluations from onsite physician, health instruction, follow-up examination, and work distribution measures. |
| ChipMOS e-Health System | "ChipMOS e-Health System" online platform was implemented since 2020 to comprehensively safe keep employees' health examination reports over the years and to provide employees the option to look up their own results, seek for medical advice, and to register and manage their healthcare services. |
Comfortable Workplace:Comprehensive healthcare management to reduce risks of illnesses
To implement well-rounded healthcare management, the Healthcare Management Operations Guidelines and the Prevention Plan for Diseases from Overwork have been formulated to protect employees' safety and health and to prevent occupational diseases.
Item
Content

Managing risks of occupational disease

Annual health examinations and onsite environmental inspections are conducted for employees operating in workplaces with special hazards to control potential health risk factors. Moreover, healthcare management measures such as proper personal health instructions, follow-up examination and monitoring, and proper work allocations, are also implemented to detect and treat any problem early on to reduce risks of occupational disease. No occupational disease has occurred in 2020.

Health examination abnormal results management

A ranked abnormality management mechanism is practiced, and corresponding measures are implemented according to the level of the abnormality. Clinical examination and monitoring is implemented for Rank 5 (highly abnormal) personnel, and physicians will evaluate their adaptability to work and give recommendations on work adjustment. Follow-up examination or onsite medical consultation will be arranged for Rank 4 (moderate abnormality) personnel.

Prevention against diseases from
overwork

ChipMOS continues to pay attention to the problem of overwork. We have been screening and selecting employees with higher risks and evaluating their workload along with their respective supervisors since 2014. The onsite physician would identify hazardous factors, adjust their loading and complete follow-up improvement tracking to ensure employees' physical and mental health and work-life balance.

Cardiovascular disease prevention

Employees with higher risk of cardiovascular disease is analyzed through screening tools, and arranged for health instruction and adaptability evaluation from physicians. Work adjustment and follow-up tracking is also conducted to enhance the employees' self-health management skills.。

Risk evaluation for middle-aged and senior employees

To ensure the safety and health of middle-aged and senior employees, electrocardiogram (ECG) test is conducted for all employees aged 45 and over to screen for risks of cardiovascular diseases. Personal health risk and workplace risk evaluation processes will also be planned for middle aged and senior employees in the future, so preventive and improvement measures could be implemented based on the evaluation results.
At Ease Workplace:Promoting health awareness and enhancing self-health management
To ensure the physical and mental health of employees, we hope employees can acquire relevant knowledge, and continue to monitor their own health and practice activities that promote healthier lifestyles to achieve better physical and mental well-being.
Item
Content

Inspire health knowledge and awareness

To inspire employees' health awareness, we plan to launch health education topics according to the annual ranking of employees' health problems, and announce them on the healthcare bulletins. We hold health seminars to effectively and accurately provide employees with health knowledge, and share the correct health knowledge with family and friends to create a healthy life together.

Illness/injury management

We will continue to provide care for the sick and injured until the case is closed. And each fab is equipped with AED for use by factory workers for any emergencies toachieve timely treatment and prevention and to reduce the risk of sickness and injury.

Flu vaccination

To increase the convenience of vaccination, annual flu vaccination program has been organized since 2010. The number of vaccinated employees continues to rise in each year, demonstrating the effectiveness of promoting healthcare awareness.

Cancer screening

The employees' health examinations include screening tests of cancers. We offer superior cancer screening tests than statutory requirements, and continue to advocate for these tests in line with the Health Promotion Administration, Ministry of Health and Welfare.

Employee assistance program

EAP has been implemented since 2011, we collaborated with external consultancy to provide employees to solve work, family, and mental health issues. We distributed EAP folders and cards to newcomers and introduce EAP during orientation.

Badge of Accerdited Healthy Workplace

ChipMOS actively implements the Accredited Healthy Workplace policy in line with the Health Promotion Administration. We have been proactively applying for the Badge of Accredited Healthy Workplace since 2009, and the Badge has been received by all fabs.。