Talent Development
Strategic Talent Development, Building Talent Diversity
Talents are the key factor in the implementation of sustainable management. Following the spirit of the TTQS talent development quality management system, ChipMOS has formulated the "Talent Development Quality Management Manual" as the guiding principle of talent training, in order to establish a complete talent development framework system, integrate Internal and external resources provide diversified, equal and rich learning and development opportunities for employees in various trainings such as leadership management, engineering technology, work efficiency, quality management, and new employees, cultivate and improve employee capabilities, and help employees grow together with the company.
In response to ChipMOS's transformation of smart factories into the wave of digital transformation, ChipMOS's talent development strategy in 2021 focuses on talent transformation and diversified learning, and continues to redefine talent standards and specifications for key positions. At the same time, it uses the data of the talent pool to analyze excellent the characteristics of employees and the development history of the company, explore various feasible development of employees in the organization, and use data to drive talent transformation strategies to achieve the goal of "playing human capital, creating growth momentum, and creating value".
ChipMOS Training System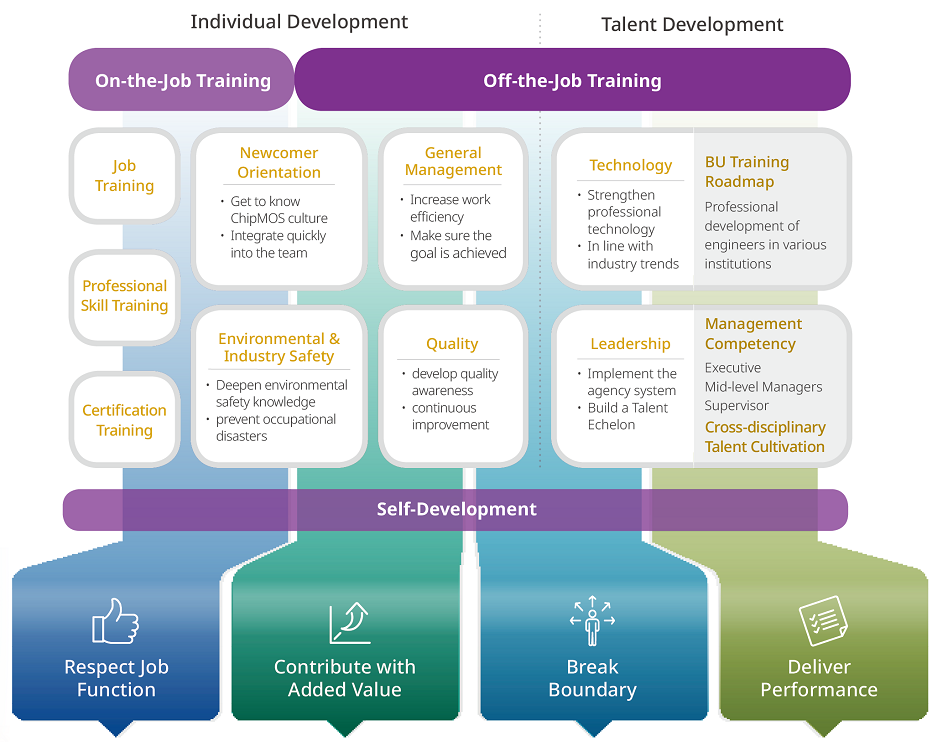 Leadership Training for Management Team
ChipMOS has management functions for managers at all levels, and plans the annual theme management function development plan according to the needs of the organization's strategic goals. Themes for 2021 include questioning ability, decision-making ability, planning and organizing ability, etc. Use a variety of learning methods, such as guidance methods, case discussions, situational simulations, etc. , to allow supervisors to break through the thinking framework and improve leadership.

In order to effectively inherit the management experience and corporate culture, we continue to promote the necessary learning blueprint for new supervisors. The lessons are taught by experienced supervisors who have been certified by internal lecturers. Through teaching and learning, the leadership team in the organization is more closely linked. In 2021 the completion rate of new supervisors will be 100%, with a total of 229 person-times .

Professional Talent Cultivation
ChipMOS has set up an education and training committee. Through the education and training committee, they plan the blueprint of each BU program, formulate and implement the BU program training plan every year, and ensure the effective operation of the BU program. Plan and systematically take root in the professional ability of employees, and cultivate a professional talent team that is competitive and meets the needs of the organization. In 2021, a total of 1,702 BU professional engineers will be cultivated. ChipMOS integrates product flow, information flow and talent flow in series, builds models from big data analysis, and accelerates the intelligent operation of factories, so as to achieve the goal of transforming smart factories and developing AI intelligence. Through online course lectures, e-newsletters, internal publications and other learning channels, employees are trained to have the correct concept of smart factories, and a total of 766 people with related skills have been cultivated throughout the year.
Diverse Learning Channels and Self-learning Resources
In line with the post-pandemic era, ChipMOS adopts a multi-learning talent development strategy - active learning, fragmented time, single focus, wanting to learn, and various learning modes. Learning is no longer limited to classroom classes or online courses, not only through visual and auditory e-newsletters, videos, podcasts, etc., but also through the use of internal communication software to set up study groups to share new technological knowledge and industry knowledge with employees through the role of editors Knowledge of various topics such as messages, English, etc., to interact with employees or respond to their needs. Employees can learn through various channels anytime and anywhere, and have more sensory fun in different learning experiences. In the 2021 annual plan, 55% of the courses are integrated into the design of independent learning.