Talent Development

Strategic Talent Development, Building Talent Diversity
Human capital is the most valuable asset to ChipMOS as well as the key to realizing sustainable operations. In dealing with a VUCA (volatile, uncertain, complex and ambiguous) environment, ChipMOS has set up comprehensive talent development framework and system and invested sufficient resources toward the training for Leadership, Technology, General Management, Quality, and for Newcomer Orientation. At the same time, talent development strategies have also been formulated to achieve talent development goals.
In 2020, we have formulated standardized talent qualifications for key positions to build the ChipMOS talent pool. By understanding employees' potentials and promoting their feasible developments in the organization, we can demonstrate the diverse values of human capital. We strategically train personnel to develop talent to meet organizational needs in the future, thereby achieving talent circulation and realizing our goal of "realizing human capital, creating growth drivers and creating values".
The standardized talent qualifications include work-related skills, personality traits, and knowledge and experience, which are all important factors for enhancing competencies, development, and performance, as well as for building an internal, diverse HR reserve. We have built consensus among stakeholders related to different positions regarding the functions, qualities, knowledge, and experiences required for specific positions through scientific tools and systematic discussions and meetings, and consequently formulated standardized talent qualifications for those specific positions.
We invested NT$2,570,400 to introduce the personal traits assessment in 2020, allowing 428 employees to acquire more in-depth understanding of themselves through evaluations, and the evaluation results also gave more defining features and references to the personal traits in the standardized talent qualifications. ChipMOS's talent pool has integrated standardized talent qualifications and HR data, allowing us to precisely and quickly find suitable candidates from our organization, who will be provided with personalized development plans and job rotations, and can efficiently meet future talent demands. In 2020, our internal transfer rate (rotation/promotions/inter-departmental transfers) was 73.58%, and the percentage of managerial roles that were promoted internally has even reached 76.19%. Besides having access to more developmental opportunities, the employees can also achieve rapid growth along with ChipMOS.
Leadership Training for Management Team
To effectively promote succession of management experiences and corporate culture, we continue to implement learning roadmap required for all new managers. All courses are instructed by experienced managers who are approved by internal instructors. Through learning and teaching, members of the organization's management team can also foster closer connections.
Professional Talent Cultivation
In terms of cultivating professional fields, we have been developing professional competences for employees through the Business Unit Roadmap since 2015. In response to emerging artificial intelligence (AI) trends in 2019, talent cultivation for AI and automation began to meet the strategic demand for smart factory transformation. Beginning with introducing AI concepts, to advanced algorithms and big data processing; finally, ChipMOS encouraged sharing of experiences and ideas from employees through AI automation sharing session. In 2020, 571 employees were trained, and total training hours reached 1,865 hours.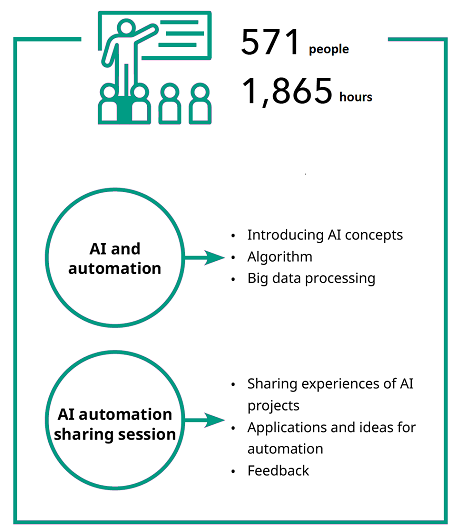 Diverse Learning Channels and Self-learning Resources
Due to effects of COVID-19 in 2020, we immediately adjusted our approach to talent development and reduced the ratio of in-class sessions, replaced by video conferences, online courses and self-learning. This allows employees to continuously enhance their knowledge and skills even during the pandemic.

To achieve the goal for diverse learning and fostering self-learning, we continue to launch themed learning resources designed to enhance work efficiency. Each theme includes multiple learning methods ranging from online courses, videos, articles, to e-papers.