ChipMOS is serious about customer satisfaction. To guarantee this, we have established a number of systems to ensure that our products and services are at the highest quality level and the most reliable ones.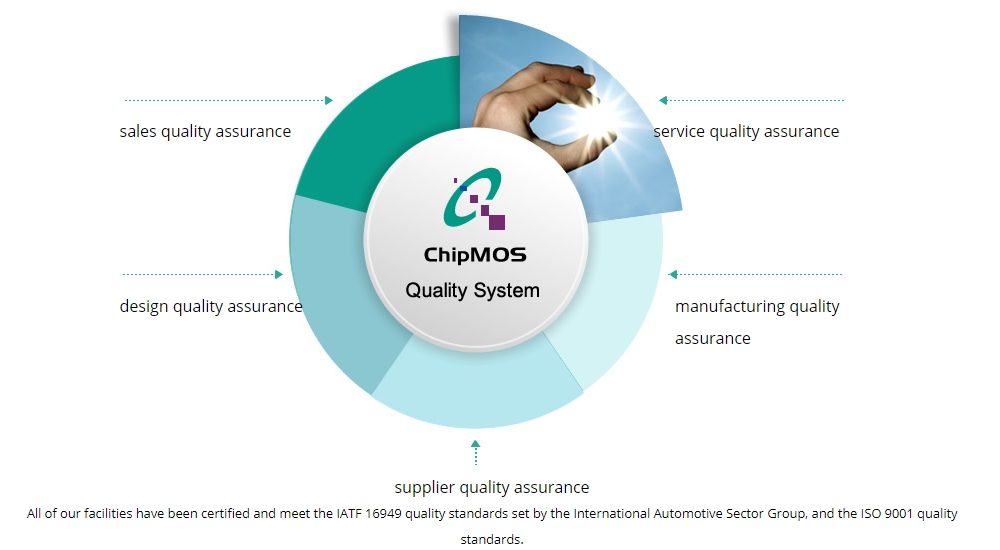 Quality System
We believe that the quality service is an essential factor in attracting and retaining leading international semiconductor companies as our customers. Our commitment is to deliver semiconductor products to our customers that meet or exceed their specifications in a timely manner and at a competitive cost. The well-trained ChipMOS staff is constantly monitoring all the testing and assembly processes in order to ensure the highest quality services rendered during the following stages: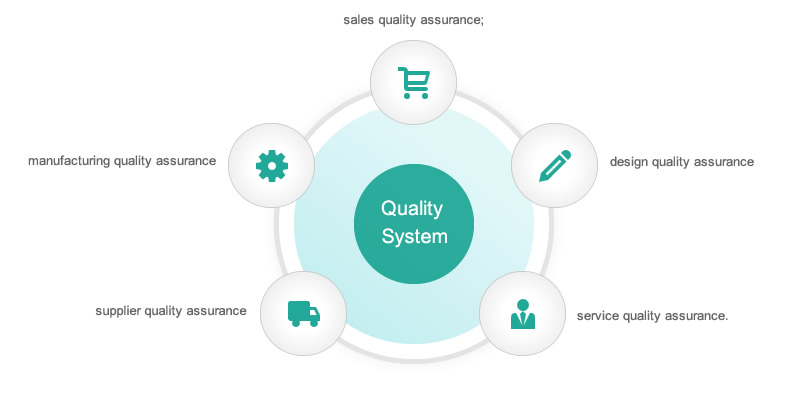 All of our facilities have been certified and meet the IATF 16949 quality standards set by the International Automotive Sector Group, and the ISO 9001 quality standards.
Reliability System
ChipMOS has established manufacturing quality control systems which are designed to maintain reliability and high production yields at our facilities. We employ the most advanced equipments for manufacturing quality and reliability control, including:
temperature cycling testers (TCT), thermal shock testers (TST), pressure cook testers (PCT), and highly accelerated stress testers (HAST) for reliability analyses
scanning acoustic topography (SAT) and scanning electron microscopes (SEM) for physical failure analysis
emi-auto probers, curve tracers and DC tester station for electrical failure analysis
atomic absorption spectrometer (AA), inductively coupled plasma optical emission spectrometer (ICP-OES) and automatic potentiometric titrator (AP) for chemical analysis
Sales and Customer Service System
ChipMOS has a complete and prompt "sales and customer reaction" system in place to provide the best services to our customers in every aspects. In addition to our testing and assembly services, customers can access, via customer services, our technical capabilities, such as the package design, CAE package characterization, product reliability and failure analysis.
Quality
Quality Certification
We devote to the identification of customer needs
1997
Hsinchu Plant
ISO 9002 Certified
ISO 14001 Certified
ThaiLin
ISO 9002 Certified
1998
Hsinchu Plant
ISO 9000 Certified
Tainan Plant
ISO 9002 Certified
1999
Tainan Plant
QS 9000 Certified
2000
Tainan Plant
ISO 14001 Certified
ISO 17025 Certified
(Calibration Lab.)
2001
Tainan Plant
ISO 17025 Certified
(Reliability)
ThaiLin
QS 9000 Certified
2003
Hsinchu
ISO 9001 Certified
ISO/TS 16949 Certified
Tainan Plant
ISO 9001 Certified
ISO/TS 16949 Certified
ThaiLin
ISO 9001 Certified
ChipMOS Shanghai
ISO 9001 Certified
2004
Chupei Plant
ISO 9001 Certified
ISO 14001 Certified
ChipMOS Shanghai
QS 9000 Certified
2006
ChipMOS TW
ISO/TS 16949 Certified
ChipMOS Shanghai
ISO/TS 16949 Certified
2007
ChipMOS TW
OHSAS 18001 Certified
2011
ChipMOS TW
EICC Self Compliance
2012
ChipMOS TW
QC 080000 Certified
2013
ChipMOS TW
ISO 14064 Certified
2014
ChipMOS TW
ISO 27001 Certified
Chupei Plant
ISO 17025 Certified(Chemical Analysis Lab.)
Tainan Plant
ISO 50001 Certified
2016
ChipMOS TW
ANSI/ESD S20.20 Certified
2017
ChipMOS TW
IATF 16949 Certified
Hsinchu Plant
ISO 50001 Certified
2020
ChipMOS TW
ISO 26262 Certified
ISO 45001 Certified

Five Key Processes
have been identified for their sequence and sequence and interaction with each other and defined theKPI (Key Performance index)to continually evaluate the effectiveness and efficiency of processes.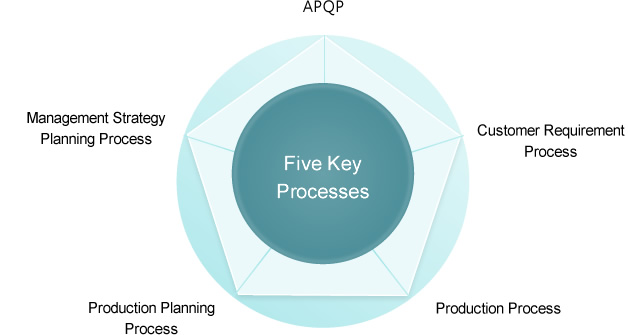 ChipMOS Certified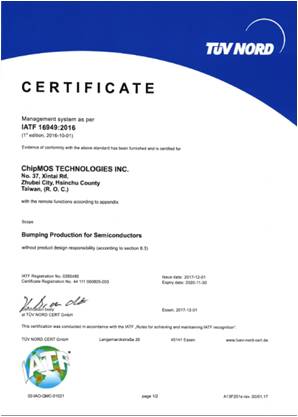 IATF 16949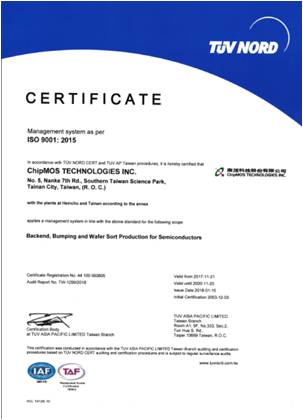 ISO 9001:2015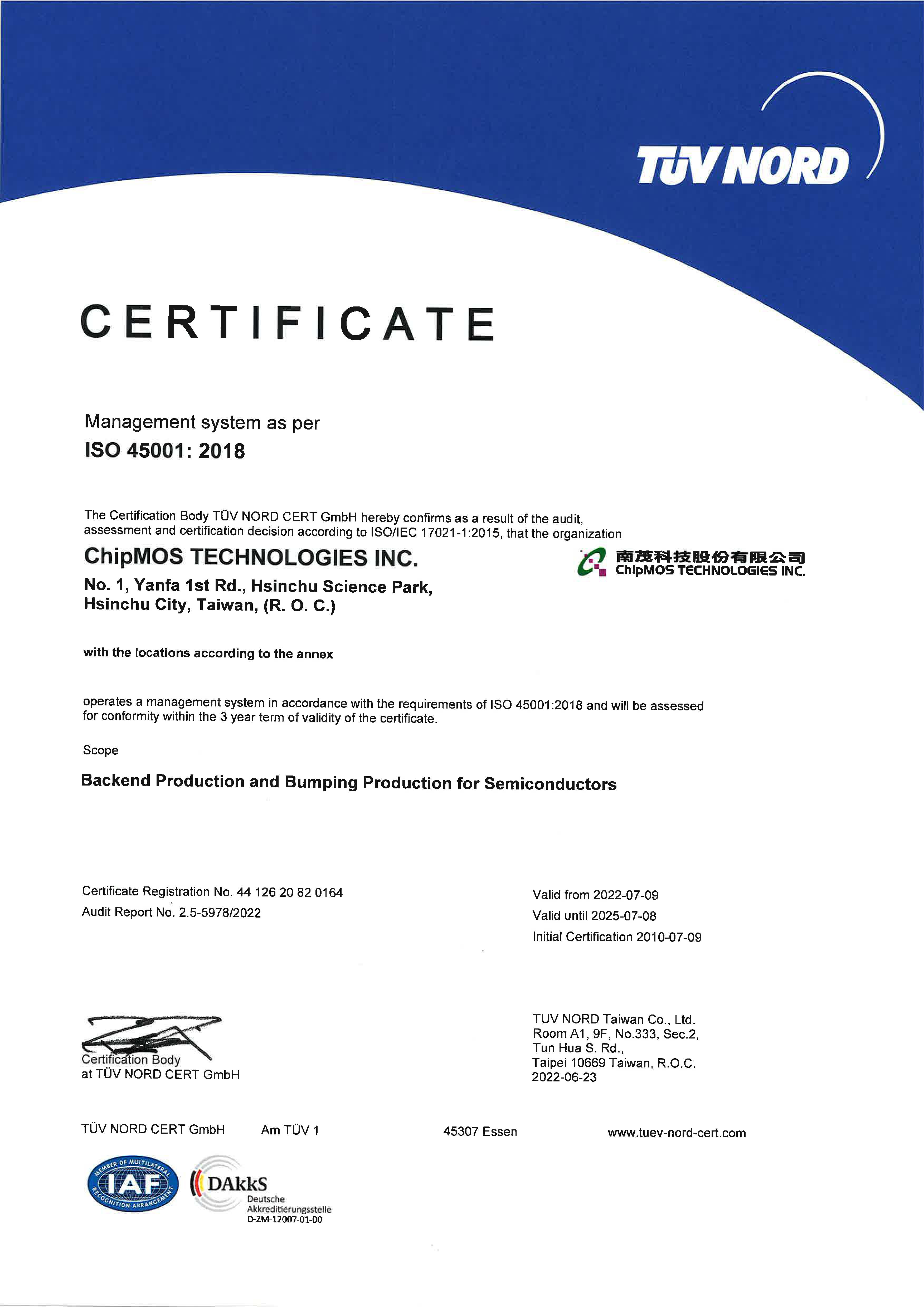 ISO 45001
ISO14001:2015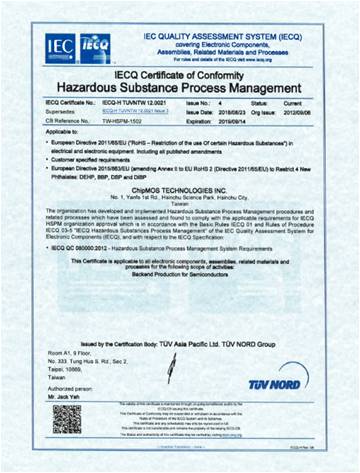 QC-080000:2012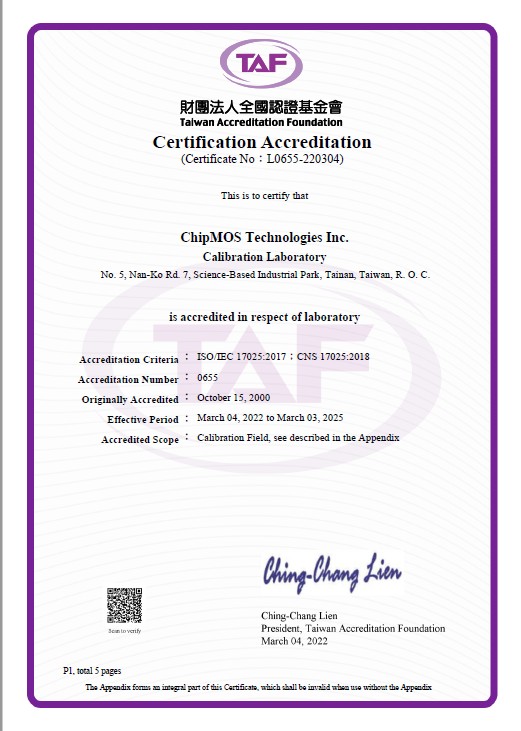 TAF-Calibration laboratory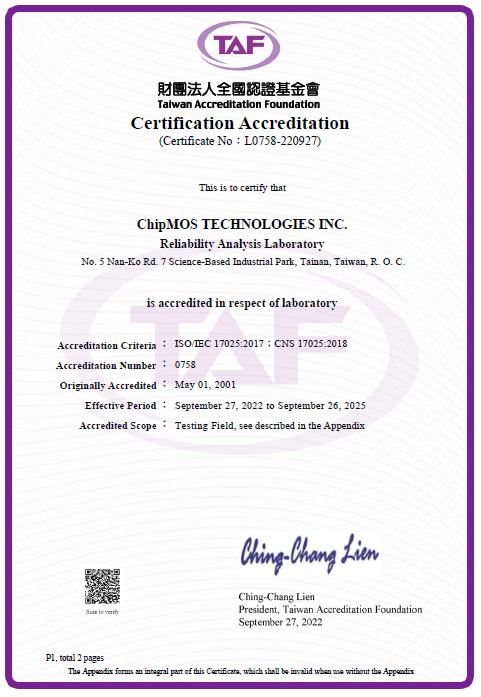 TAF-Reliability and Failure analysis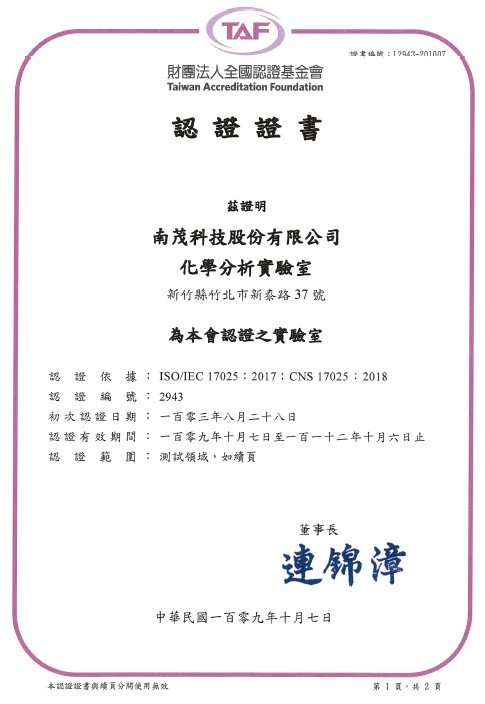 TAF-Chemical analysis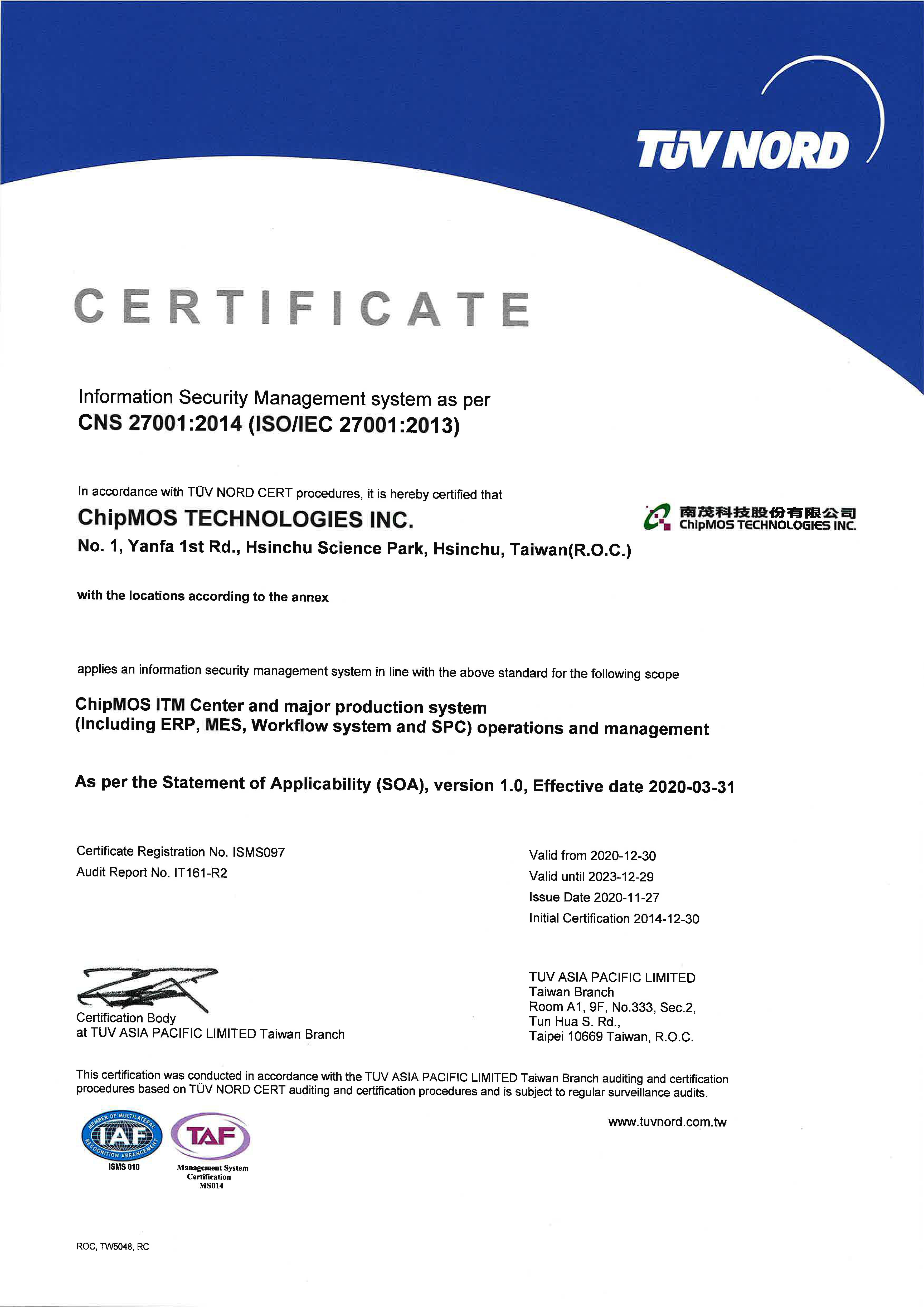 ISO/IEC 27001:2013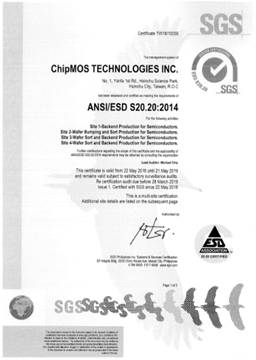 ANSI/ESD S20.20:2014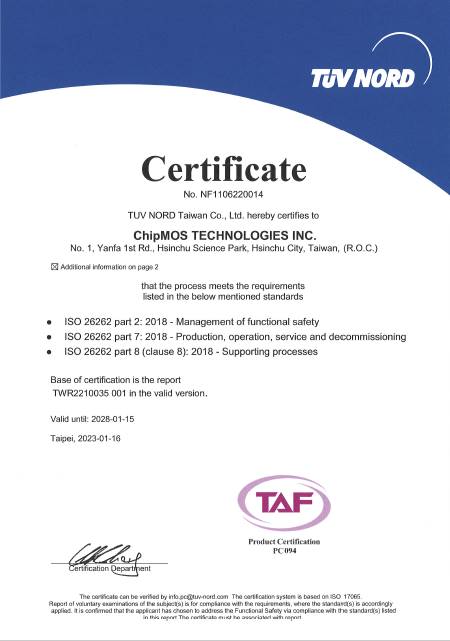 ISO 26262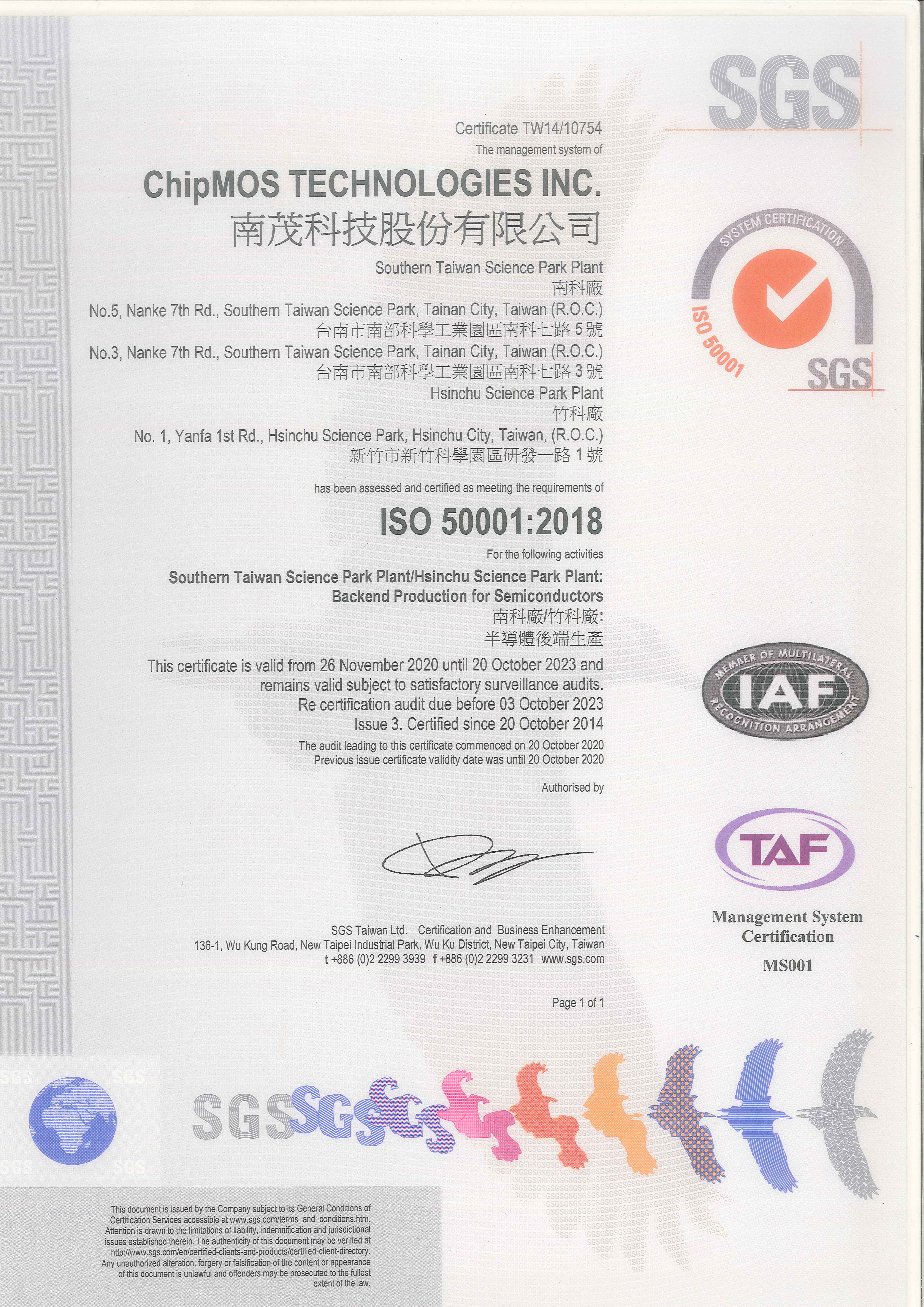 ISO 50001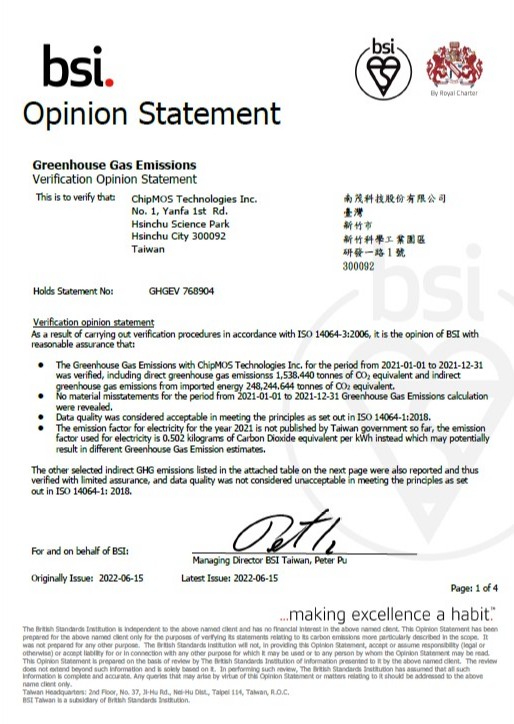 ISO 14064
Quality System Summary
Seeking the faith for defect prevention and continuous improvement, ChipMOS developed process-oriented QMS aiming to meet customers' requirement and expectation in an effective and efficient manner in order to achieve a competitive advantage.
ChipMOS Quality Management System
ChipMOS develop process-oriented QMS to identify and meet needs of customer requirement and expectation in an effective and efficient manner to achieve competitive advantage.