Talent Attraction and Retention
Talent Management
"Talent" has always been a critical factor in the arena of corporate competition. In the face of an ever-changing market and mounting challenges, businesses have to be able to respond promptly and operate in accordance with its organizational strategies and development in order to attract suitable talents. ChipMOS has actively kept up with the latest trends in human resources so that it is always in a position to adjust its strategies whenever necessary in order to maintain abundant human resource capitals for the organization. Due to the slow growth of the global semi-conductor industry in 2022, the demand for human resources from the sector has also gradually waned. And as such, ChipMOS has promptly reviewed its manpower and adjusted its recruitment strategy to limit hiring to crucial positions so as to accommodate the need for talents in future deployments.
In preparation for long-term human resource capital, the Company continues to offer a variety of recruitment channels, including job bank, ChipMOS website, employment service center, employee recommendations, R&D Substitute Military Service and so forth. By actively building connections with high performing individuals from all industries, we can better focus our recruitment efforts to find suitable talents.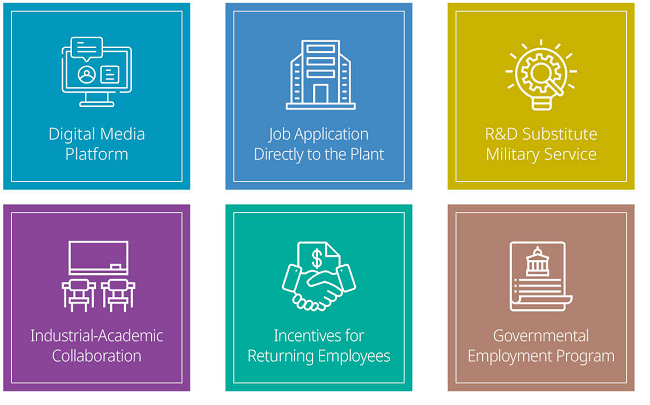 Cultivation in Campus and Recruitment for Young Students
ChipMOS has always been committed to academic research and technological innovation in the field of semiconductor packaging and testing over the years. By insisting on our primary intention of cultivating outstanding talent, with the exchange of academic technologies and industrial practice, students experience the real workplace before entering the society so that they could better understand relevant trends in the sector while vindicating to what they've learned in school, thereby enhancing their competitiveness in the workplace and giving them greater room to pursue their dreams. Furthermore, it promotes the concept of corporate culture and job vacancies, and encouraged young students to accept the embrace of the semiconductor industry.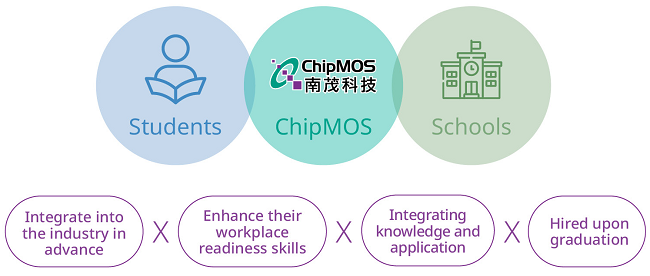 Beginning in 2013, ChipMOS has embarked on a continuous collaboration with the Mechanical Engineering Department at Chung Yuan Christian University, focusing on a semiconductor program. This partnership was further expanded in 2022 to include Southern Taiwan University of Science and Technology and Kun Shan University. By bringing in lecturers from the industry to teach in these institutions, ChipMOS is providing the younger generation with valuable exposure to the semiconductor industry from a technical standpoint. This initiative aligns with their commitment to fostering industry-academia collaborations and upholding social responsibility. In particular, the Southern Taiwan University of Science and Technology, equipped with machines donated by ChipMOS, offers a comprehensive and rich curriculum. In addition to offering classes on professional theory, they have also designed practical courses on machine operation. With the guidance of industry experts, students have the opportunity to operate these machines themselves. We have also arranged field visits for students at ChipMOS' facilities to allow them to actually see the operations at our production lines and the company environment. Such exposure helps students to smooth out the transition from school to employment and provide opportunities for them to apply the knowledge they have learned.
【Read More...】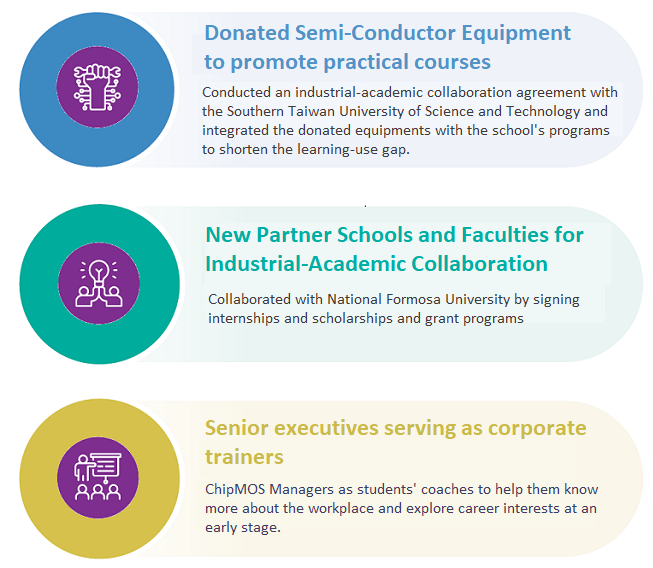 Promoting Job Opportunities for the Disabled
ChipMOS is committed to creating an inclusive and friendly working environment. In an effort to promote employment for the disabled, the Company continued to collaborate with the associations for the visually and hearing impaired. In 2022, 42.31% of the disabled employees at ChipMOS came from our collaboration with disadvantaged minority groups. In fact, the Company endeavored to promote relevant assistive measures for improved accessibility for our hearing-impaired employees, including communication aids for them to adapt to the workplace successfully; their jobs are also appropriately adjusted depending on their learning progress; meanwhile, visually impaired massage therapists are employed in the plants to provide services. The guide dogs are permitted to enter the plants to accompany them to work and assist the visually impaired to walk safely. We will continue to provide and manage our diverse employment channels, for providing suitable job positions for the disabled, and create a barrier-free and friendly working environment.
Invigorating the Organization and Inspiring Employees

"Talent" is the most important asset we value. By striving to provide an excellent working environment, competitive benefits, complete education and training, and a healthy working environment, not only employees are willing to stay in their jobs, but also willing to recommend the Company to others, and thus forge closer partnerships with the Company. In order to facilitate better flow and transfer of internal talents so that our employees may benefit from more opportunities of development, the Company has worked tirelessly to create a sound internal job transfer system along with ensuring internal job vacancy information transparency. Apart from ensuring suitable positions for employees of corresponding talents and broadening their career horizons, these measures also help to tap into the potentials of our employees and invigorate the whole organization. In 2022, ChipMOS continued to promote its incentive mechanism to encourage talent recommendation designed to spur employees to recommend outstanding external talents and inspire them to transfer to other positions to tackle new responsibilities. This will enable employees to cultivate diverse competence and bolster their vocational skills. In 2022, our success rate for internal transfer coordination came to 61.03%.

Despite the allure of competitive offers from the external market, ChipMOS continues to actively develop various talent retention solutions and incentive mechanisms. For instance, ChipMOS has increased its overall wage adjustment margins in 2022 compared to the past, offered special bonus packages for returning employees and urged outstanding employees to return. As for foreign employees, the Company has offered new bonus for contract renewal as a way to encourage foreign employees to stay with the Company after their contract expires. Additionally, we are constantly improving our talent pool system. Apart from analyzing our manpower data to actively identify the unique strengths of our employees so that we can proactively offer them opportunities to challenge themselves and showcase their abilities. Through the ChipMOS Talent Pool, we are able to identify suitable candidates for future positions and customize our employee competency training plans so as to prepare for long-term talent needs.