Talent Attraction and Retention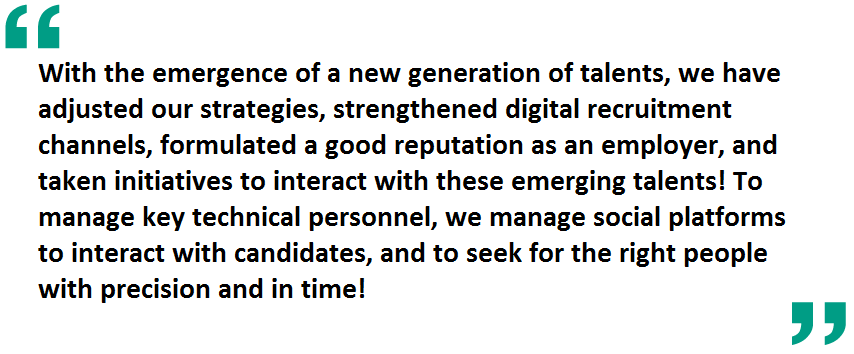 Talent Management
In line with ChipMOS's operational development strategies, we are actively planning for the 5G market. To continuously drive for ChipMOS's competitive strengths, besides understanding market trends and product growth opportunities, we are also developing our talent pool for innovation and growth. In terms of managing recruitment channels, ChipMOS utilizes job banks, its website, campus recruitment activities, government projects, as well as social media platforms including Linkedin and Facebook. By actively building connections with high performing individuals from all industries, we can better focus our recruitment efforts to find suitable talents.

Using Campus Resources to Recruit Young Workers

On-campus recruitment
Campus job fair is a key battlefield for enterprises, ChipMOS included. We invest in campus recruitment activities in each year, and besides promoting our corporate brand and image, we also aim to recruit more high-performing students. We hope to use these opportunities to introduce more students to industry trends and career paths suitable to their aptitudes and aspirations, and to provide a platform for these young people to realize their potentials.
In terms of campus job fairs, we compile results from past participation and expand our reach to new universities and colleges to form more partnerships. Our Tainan fab reached out to universities and colleges from neighboring cities and counties in 2020, and formed partnerships with National Yunlin University of Science and Technology and I-Shou University. Due to the COVID-19 pandemic in 2020, the planned campus job fairs have been pushed back to 2021, and ChipMOS is scheduled to participate in 7 campus job fairs in 2021.
Industry-Academia Collaboration
By upholding ChipMOS mission for talent cultivation, we extend our reach to college and university campuses through Industry-Academia collaboration so that students can put their theoretical learning to the practical experience, and will be more competitive when they enter the workplace.
We have been actively working industry-academia collaboration with universities and colleges since 2013. We inspire the students and help them to bridge the gaps between theory and practice through these projects. Each project is mutually discussed and initiated by ChipMOS and respective schools focusing on the students' professional skills, thereby preparing them for any challenge ahead. Looking ahead, our goal is to continue to search for collaboration opportunities with new schools, and to jointly promote application opportunities of integrating knowledge-action.
Providing Job Opportunities for the Disabled
ChipMOS actively recruits physically and mentally challenged people and continue to collaborate with relevant institutions to provide job opportunities. As of December 31, 2020, we have hired 40 physically or mentally challenged workers, and cumulatively, 62 physically or mentally challenged workers have been hired. All in all, we have hired 7 workers more than the legally stipulated employment (no less than 1% of total employees) to provide diverse employment opportunities to those in need. Additionally, ChipMOS strives to build an accessible and friendly workplace environment and welcomes guide dogs in assisting the physical safety of visually impaired people at our grounds.
Invigorating the Organization and Inspiring Employees

ChipMOS is continuing to strengthen operational framework and sees its talent pool as the basis for competitiveness. By providing quality workplace environment, competitive benefits, comprehensive training plans and a healthy and safe work environment, employees are more willing to stay and to refer ChipMOS to others, as well as to build more close-knit relations with the Company.
We strive to fulfill internal transfer system and to provide well-rounded and flexible development opportunities to our employees, who can also learn diverse professional skills and to build their career paths. To inspire our personnel, ChipMOS' internal referral mechanism, which aims to encourage employees to refer external talents through incentive measures, was improved in 2020. In addition, the mechanism also boosted employees' willingness for internal transfer. In 2020, the success rate for internal transfer was 73.58%, showing a 5.6% improvement from 2019. We have a fair and transparent promotional mechanism, in which high-performing employees will be provided with more challenging work opportunities. We began a series of key talent development plans starting in 2019, in which talents from all ranks are being developed. By understanding employees' potential, we can promote internal personnel transfer and fit the right person at the right place of work, while effectively reducing turnover and enhancing talent retention.