Talent Attraction and Retention
Talent Management
In line with ChipMOS's operational development strategies, we are actively planning for the 5G market. To continuously drive for ChipMOS's competitive strengths, besides understanding market trends and product growth opportunities, we are also developing our talent pool for innovation and growth. In terms of managing recruitment channels, ChipMOS utilizes job banks, its website, campus recruitment activities, government projects, as well as social media platforms including Linkedin and Facebook. By actively building connections with high performing individuals from all industries, we can better focus our recruitment efforts to find suitable talents.

Cultivation in Campus and Recruitment for Young Students
ChipMOS is committed to semiconductor testing and packaging related academic research and technological innovation. Insisting the original intention of cultivating high-quality talents, through the exchange between the academic technologies and industrial practice, students are able to experience the real work in a workplace before entering the society. It is hoped that young students are able to better understand the industry trends, and also affirm and verify with what they have learnt in school, to enhance the competitiveness of the new generation young people in the workplace and offer more stage for them. Furthermore, it promotes the concept of corporate culture and job vacancies, and encouraged young students to accept the embrace of the semiconductor industry.

Therefore, we go to colleges and universities every year to recruit various professional talents. In 2021 we participated in 8 campus talent recruitment activities; meanwhile, we plan industrial-academic collaboration. In addition to the previous college partners, five schools, including Minghsin University of Science and Technology, China University of Science and Technology, Chung Hua University, Southern Taiwan University of Science and Technology, and Kun Shan University of Science and Technology have signed with us for the internship, scholarship and grants collaborations. On top of the previous summer internship opportunities, additional semester-based and academic-year internships have been offered to provide students with more choices. Through the internship, students further learn about ChipMOS's corporate culture and on-site work conditions. We look forward to promote the practical experience opportunities for "integration of learning and application; employment upon graduation" with more schools.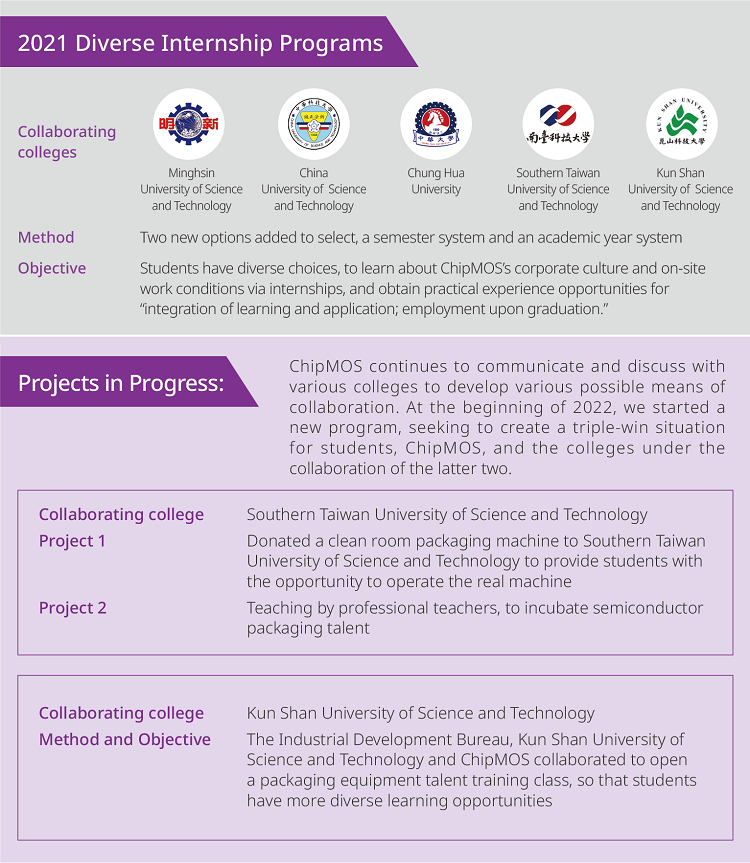 Providing Job Opportunities for the Disabled
ChipMOS creates a diverse and friendly workplace, and employs the disabled. As of the end of December 2021, 39 disable employees have been employed (equivalent to 59 disabled employees in total), or an employment rate of 1.06%, exceeding the statutory standards. Furthermore, to promote the employment of disabled, we are committed to caring for the employment opportunities of underprivileged groups, by working with the associations for the visually and hearing impaired, to recruit these disabled. In 2021, more than 50% of the disable employees in ChipMOS came from the collaborative channels with the underprivileged groups. To create a friendly working environment for hearing-impaired employees, the production lines purchased of translation machines as an assistance for hearingimpaired employees to adapt to the workplace successfully; their jobs are also appropriately adjusted depending on their learning progress; meanwhile, visually impaired massage therapists are employed in the plants to provide services. The guide dogs are permitted to enter the plants to accompany them to work and assist the visually impaired to walk safely. In the future, we will continue to spare no effort to provide diverse employment channels, for providing suitable job positions for disabled, and create a barrier-free and friendly working environment.
Invigorating the Organization and Inspiring Employees

ChipMOS deeply understands that the continuous growth and sustainable operation of an enterprise need to rely on the efforts and contributions of all employees."Talent" is the most important asset we value. By providing a excellent working environment, competitive benefits, complete education and training, and a healthy working environment, not only employees are willing to stay in their jobs, but also willing to recommend the Company to others, and thus forge closer partnerships with the Company. In addition to the external recruitment, we are committed to implementing an internal job transfer system, making internal job vacancy information transparent, and providing employees with a complete and flexible development space. The flow of internal talents is promoted, and the diverse professional skills of employees are developed, to expands a broader career planning, while taking into account of the overall organizational and personal career development needs through this approach.

ChipMOS values and cherishes every talent, and regularly reviews and enhances the talent retention measures. For the resigned employees, the line manager and the HR department conduct resignation interviews and care, to understand the reasons of the resignation, provide assistance as much as possible, and offer internal job transfer opportunities timely. A smooth employment channel is provided to the previous employees who are willing to return to the Company. In 2021, the Company offered the employee return reward program to encourage outstanding employees to return to the Company. In 2021, there were 25 returned employees, including 17 direct employees and 8 indirect employees, as a continual promotion for the circulation of talents. We also actively build a talent pool. Not only for the data analysis of workforce, but also we grasp the strengths of employees and take the initiative to provide opportunities for certain suitable employees to rotate and exert their strengths, to realize the goal of suitable talents for suitable places.