Social Care
Fulfilling the Chairman's vision of "giving back what we have used from the society", ChipMOS continues to be engaged in social welfare activities and to initiate activities based on the dimensions of "care for the disadvantaged" and "youth education". By collaborating with local communities, schools, and social welfare institutions we engage in social welfare through innovative and diverse methods in the hopes of contributing what limited resources we could to help and to care for the society, and to focus on groups that required the most care at the corners of our community. By contributing toward charitable causes along with our colleagues, we have put our love in action to create social co-prosperity and to fulfill corporate social responsibility.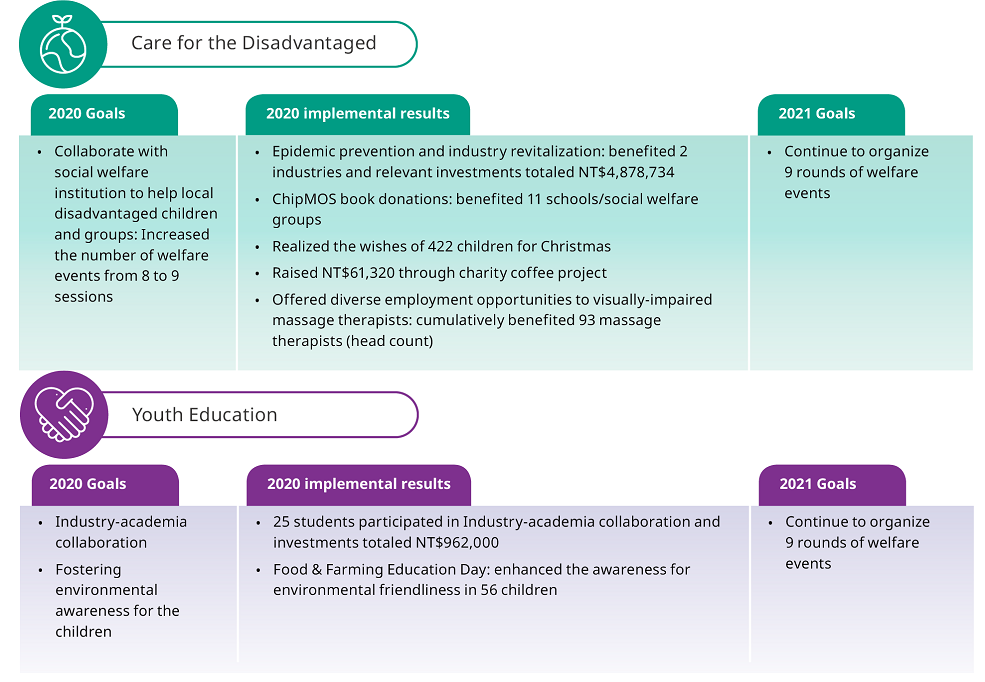 Epidemic Prevention and Industry Revitalization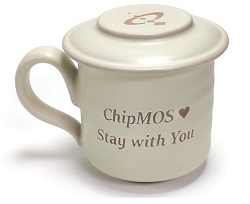 The COVID-19 outburst in 2020 had enormous effects on the world economy. Many industries were significantly affected, and some of the worst hit included the aviation industry, travel industry, and the cultural and creativity industry. To help revitalize the industries, ChipMOS chose to cooperate with local ceramics workshop for our anniversary gift, in which approximately 5,600 ceramic mugs were made. Besides helping the hardworking traditional industries in Taiwan during the epidemic prevention period, we also hoped to convey the warmth and thoughtfulness of traditional craftsmanship to all of our employees.
When COVID-19 affected Taiwan the most, we also prepared epidemic prevention kits, which contained locally produced epidemic prevention products, for all employees. On top of properly caring for the health of our employees, we also wanted to care for the society and to revitalize relevant industries.
Christmas Wish Adoption Project
Starting from 2015, we partner with local social welfare groups and rural elementary schools right before Christmas to sponsor the children's wishes for Christmas gifts, which ranged from stationery sets to sports equipment and more. The children drew their Christmas wishes by hand, and our employees picked out the gifts, wrapped them, and signed Christmas cards that went along the gifts, which were then hand-delivered to the kids by ChipMOS volunteers. We hope to bring encouragement and support to the kids through these gifts, and to plant seeds of hope in them so that, one day, after they're grown, they may continue to extend a helping hand to those in-need.
For 2020, we collaborated with HsinChu I-Link Community Care Association, rural elementary schools at Hsinchu (Gien Shih and Mei-Hua), and rural elementary schools at Tainan (Rueifong, Sipu, Shuangchun, Wunshan, and Beiliao), and the kids' wishes were fulfilled by 422 employees, who helped us to spread our love to rural areas.
【Read More...】
Christmas charity activities: Fulfill children's wish, warming children's hearts with hope
ChipMOS Book Donations
ChipMOS values the education, learning and growth of schoolchildren. By taking inventories of our internal resources, our engineers compiled sets of idle computer sets, which were then reactivated and donated to Hsinchu Gien Shih Elementary School and Hsinchu County Mei-Hua Elementary School. Additionally, in response of our promotions of an e-library, we have compiled a total of 11,555 books throughout our fabs, which were donated to suitable organizations including rural elementary schools in Hsinchu and Tainan, universities and colleges, hospitals, and social welfare groups based on the nature of the books. In particular, 2,961 books were donated to charity secondhand bookstore managed by disadvantaged groups in Taipei in order to foster sustainable use of educational and learning resources.
Charity Coffee Project
The vision behind the charity coffee project is to do a good deed whenever possible. Since its beginning in 2016, we have combined day-to-day operations with charity so that employees could contribute toward a good deed whenever possible. A NT$10 coin did not merely earn a person a warm cup of coffee, but through joining everyone's collective effort, it also helped to benefit more people in need.
Industry-Academia Collaboration
Founded on the principle of "meeting industry needs and providing care through technology", ChipMOS first began to form industry-academia collaboration projects with nearby colleges and universities in 2013. These projects included summertime internship, scholarships, career programs, and industry-academic programs. To offer substantial help to underprivileged students and to relief the economic burden on their families, we provided scholarships and internship incentives. Having launched industry-academia collaboration projects for 8 years, NT$962,000 was invested to relevant programs in 2020, and we continue to inspire highperforming youths and students to apply their knowledge to practice and to achieve diversified growth.
Food & Farming Education
We purchased toxic-free vegetables and traceable guavas in 2020 to advocate for toxic-free fruits and vegetables and to enhance employees' understanding of different ways to be environmentally friendly. Moreover, employees were invited to bring their families to visit the farmland of the fruits and vegetables we purchased. Ecological and environmental education was conducted to our employees and 56 children at the farmland. Besides enhancing employees' and their families' knowledge regarding eco-friendly vegetation, we also hope our employees can continue to join us in caring for the planet, and to extend this positive influence to their families and beyond.