Social Care
Fulfilling the Chairman's vision of "giving back what we have used from the society", ChipMOS continues to be engaged in social welfare activities and to initiate activities based on the dimensions of "care for the disadvantaged" and "youth education". By collaborating with local communities, schools, and social welfare institutions we engage in social welfare through innovative and diverse methods in the hopes of contributing what limited resources we could to help and to care for the society, and to focus on groups that required the most care at the corners of our community. By contributing toward charitable causes along with our colleagues, we have put our love in action to create social co-prosperity and to fulfill corporate social responsibility.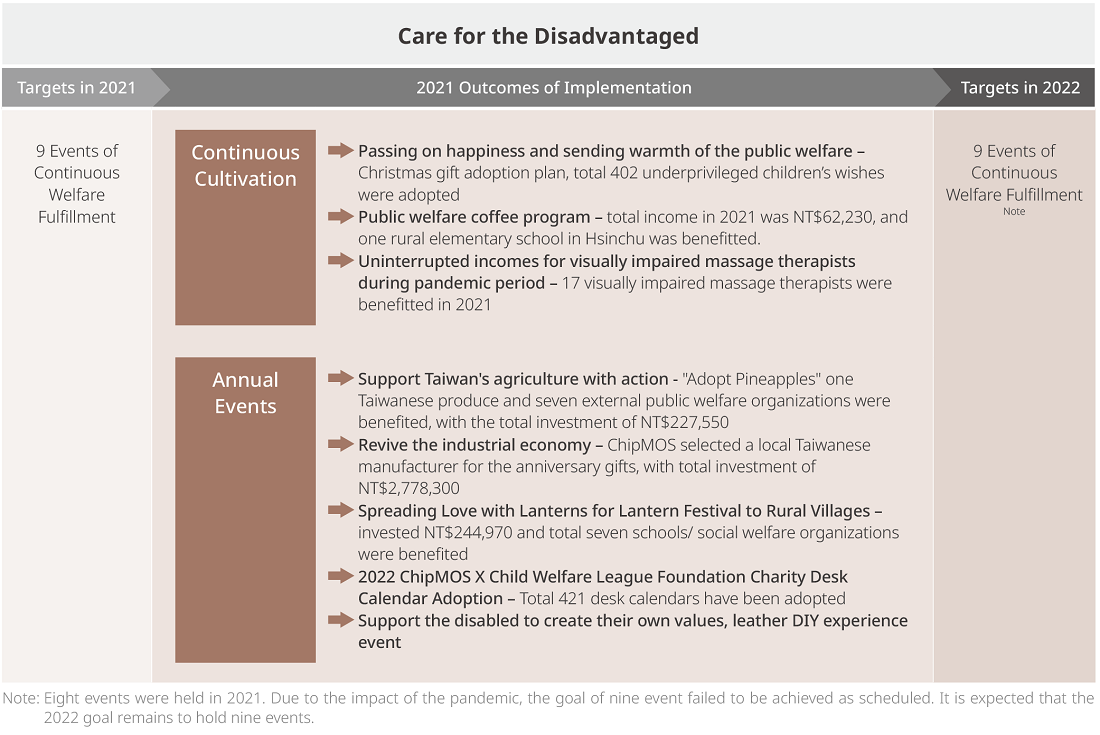 Epidemic Prevention and Industry Revitalization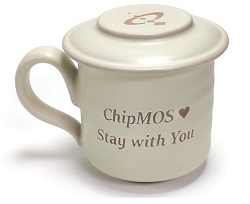 To revive Taiwan's industrial economy affected by the pandemic, the ChipMOS Welfare Committee specifically selected the eco-friendly leather ID card cases made by local leather craft manufacturers in Taiwan. Total 6,000 identification card cases were ordered as gifts to employees. Not only helping Taiwanese craft manufacturers challenged by the pandemic, but also convey the warmth to each ChipMOS employee with the pure hand-made crafted gift.
The COVID-19 outburst in 2020 had enormous effects on the world economy. Many industries were significantly affected, and some of the worst hit included the aviation industry, travel industry, and the cultural and creativity industry. To help revitalize the industries, ChipMOS chose to cooperate with local ceramics workshop for our anniversary gift, in which approximately 5,600 ceramic mugs were made. Besides helping the hardworking traditional industries in Taiwan during the epidemic prevention period, we also hoped to convey the warmth and thoughtfulness of traditional craftsmanship to all of our employees.
When COVID-19 affected Taiwan the most, we also prepared epidemic prevention kits, which contained locally produced epidemic prevention products, for all employees. On top of properly caring for the health of our employees, we also wanted to care for the society and to revitalize relevant industries.
Christmas Wish Adoption Project
Starting from 2015, we partner with local social welfare groups and rural elementary schools right before Christmas to sponsor the children's wishes for Christmas gifts, which ranged from stationery sets to sports equipment and more. The children drew their Christmas wishes by hand, and our employees picked out the gifts, wrapped them, and signed Christmas cards that went along the gifts, which were then hand-delivered to the kids by ChipMOS volunteers. We hope to bring encouragement and support to the kids through these gifts, and to plant seeds of hope in them so that, one day, after they're grown, they may continue to extend a helping hand to those in-need.
In 2021, in addition to the original partners, Ai Lin Community Care Association of Hsinchu County, Mei Hua and Jianshi Elementary School in Hsinchu County, Jiaxing Elementary School in Jianshi Township, Hsinchu County, and particularly rural elementary schools in Tainan (Dongyuan Elementary School, Longqi Elementary School, and Xinguang Elementary School) were added, and total 402 children's wishes were fulfilled.
【Read More...】
Christmas charity activities: Fulfill children's wish, warming children's hearts with hope
2022 ChipMOS X Child Welfare League Foundation Charity Desk Calendar Adoption
To be more diverse when practicing public welfare, ChipMOS cooperated with the welfare organization Child Welfare League Foundation for the first time, to jointly produce the charity desk calendars. Meanwhile, ChipMOS employees were invited to purchase the paintings of children from rural villages with love, as a direct support with actions. Meanwhile, the income from the charity desk calendars wer e donated directly to the Child Welfare League Foundation to fund the children and adolescent underprivileged or in the rural villages.
Charity Coffee Project
The public welfare coffee program launched in 2016 has entered its sixth year in ChipMOS. With charity coffee machines set up in the office areas of the three fabs, employees are invited to assist the public welfare during works, to help more kids in rural villages in need. In 2021, we learned that Xiuluan Elementary School in Hsinchu County was in lack of resources as it is a school in a rural village. After the assessment, the Company donated the income from the Hsinchu fab, NT$ 61,800 of the year, with accumulated balance of donations over the years, NT$22,200, for total NT$84,000 to the school to add window screens to classrooms. It is hoped that the love of ChipMOS employees is helpful to children in rural villages for a more comfortable learning environment.
Industry-Academia Collaboration
Since 2013, ChipMOS has successively launched a series of industrial-academic collaborative projects with ten colleges and universities in the neighborhood, including summer internships, scholarships and grants, employment-oriented programs and industrial-academic classes. With multi-year cultivation, 568 students have been benefitted. Since 2021, to continue to cultivate and enhance the relationship between the Company and colleges, the new semester internship opportunities have been added; scholarships, grants, and internship allowances are provided as the substantive assistance to underprivileged students, to reduce the financial burden of their families. In the 2021 Industrial- Academic Series Projects, total NT$1,611,000 has been invested to continuously motivate outstanding young students to apply what they have learned for diverse development.