Safe Working Environment

ChipMOS attaches great importance to the safety and health issues of employees and non-employees who are active in the factory. Only a safe and hygienic working environment can allow all workers to work with peace of mind and create high efficiency and high-quality work performance. We adopt a systematic management model, all factories continue to promote the ISO 45001 occupational safety and health management system, and through third-party verification, the implementation of work environment safety and health management operations and in line with international management trends. The coverage of the management system includes the routine and non-routine activities of all workers in the factory, as well as the safety and health risks that may be derived, covering 100% of the scope.
Environmental Safety, Health and Energy Management Committee
The Committee is chaired by level one managers, and all heads of department and members of the Committee participate thoroughly. Every three months, the regular Committee meeting is held, which conforms the legal requirement. The task of the committee is to draft environmental, safety and health (ESH) promotional strategies, establish ESH promotional objectives, and to foster continuous improvement plans in related areas.

Create Occupational Safety of All Employees

In 2022, ChipMOS' safety and health management was planned towards the direction of full participation, under the promotion model of enhancing worker participation, consultation and communication, including review of procedure documents, participation in monitoring operating environment, joint incident investigation and hazard identification, while building a management system including the communication of opinions.
Hazard Identification, Risk assessment, and Incident Investigation
Through the preventive mode of risk management and autonomous training in each fabs of ChipMOS, each employee's awareness of work safety and health is improved. Based on the established safety and health risk identification and assessment procedures, with the implementation of ISO 45001 system training courses by employees in every fab every year, the probability of risks and severity level are identified via the elements including hazard severity, frequency of occurrence and accident probability by conducting hazard identification and risk assessment procedures for each routine and non-routine operations from the five aspects, namely personnel, machinery, materials, engineering methods and the environment, to analyze the resulting major occupational safety and health risks, and find out the improvable hazard points, plan and propose corresponding control methods, corrective measures and goals/ management plans for reducing risks and avoid accidents. In 2022, based on major occupational safety and health risks, 24 improvement plans were proposed and all were completed as scheduled.
Contractor Management
Before introducing of various machines and equipment to the fabs, an evaluation application form must be submitted. Hazard identification and safety protection (such as emergency stop buttons and safety interlocks) should be inspected at each stage, including introduction, installation, and acceptance. During installation, equipment manufacturers are required to comply with contractor's safety management matters, procedures for various safety management measures are prescribed to comply with operational safety and health requirements; the hazard signs in both Chinese and English are posted on machine undergoing maintenance and services, for the domestic and foreign employees to understand the hazards of the machine and take appropriate safety protection measures. In 2022, none of the fabs had any occupational safety and health incident for the contractor's staff.
Emergency Drills
ChipMOS is committed to improving employees' awareness of safety and health. The passive training requirements in the past have been effectively transformed into a training mode of autonomous management and autonomous training by us, and trainings at all levels are expanded for improving the adaptability, to implement the goal of occupational safety for all employees. In addition to the education and training for employees pursuant laws, to avoid the management risks of contractors, relevant education and training are required to be conducted, as well as the requirements for safety and health training and toolbox safety meetings before entering the fabs are also reinforced.
In terms of contingency drills, based on the risk assessment results, for the possible types of incidents such as fires, earthquakes, typhoons and chemical disasters, we all take actions through the three indicators of "Prevention", "Early Warning" and "Action"; ChipMOS conducts autonomous department drills, or works with relevant governmental agencies to implement large-scale drills. Through scenario simulation and practice, the employees' awareness of hazards and their contingency capabilities are improved, and greatly reduce disasters and losses. At the same time, members of the contingency team should conduct contingency education and training at least once every six months, to improve the contingency capabilities of the contingency team members.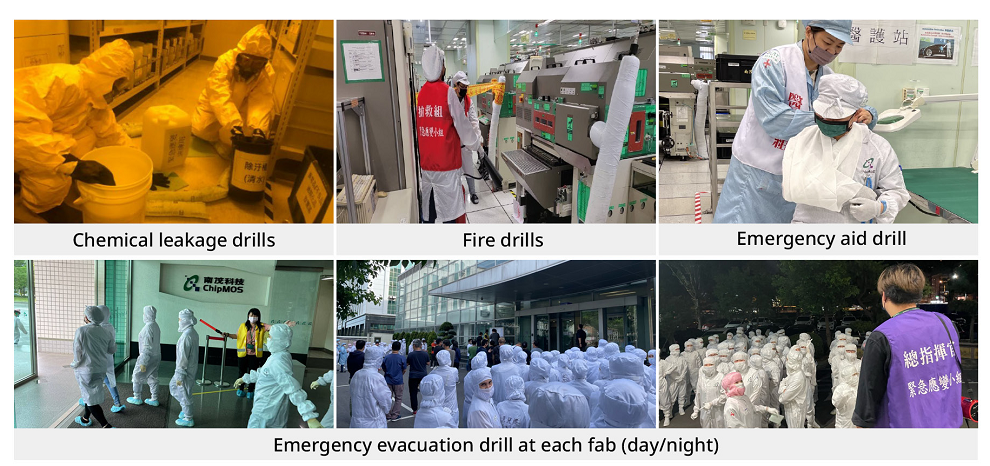 Operating Environment Monitoring
Following the "Enforcement Procedures for Labor Operation Environment Measurement," ChipMOS conducts labor operation environment monitoring every six months periodically. Before the monitoring is conducted, the persons in charge of the operating venues are called for a meeting, to discuss the type of work exposure, identify and analyze hazards, and collect data. Based on the analysis results, the "Operating Environment Monitoring (Including Sampling Strategy) Plan" is drafted to ensure that all hazard exposure factors are included in the monitoring. The monitoring results will implement management measures according to the type of assessment, and published throughout the fabs to inform all employees.